Success story
Infrabel drives sustainable mobility by unlocking the full power of data
Infrabel builds, maintains and modernizes the Belgian railway network, as well as coordinating all train traffic throughout the country. Innovation, collaboration, and transparency are key to the company's strategy and success.
As part of its role, Infrabel is responsible for monitoring and reporting punctuality and is obligated by law to provide certain data to external stakeholders, from citizens to the media. Infrabel therefore took a proactive approach, looking at collecting and sharing open data through a portal with all stakeholders, to become a data-driven company.
It has now extended the data experiences it offers, including around job vacancies and progress against CSR goals, as well as creating a new, internal data portal for its 10,000 employees, using the same Opendatasoft platform.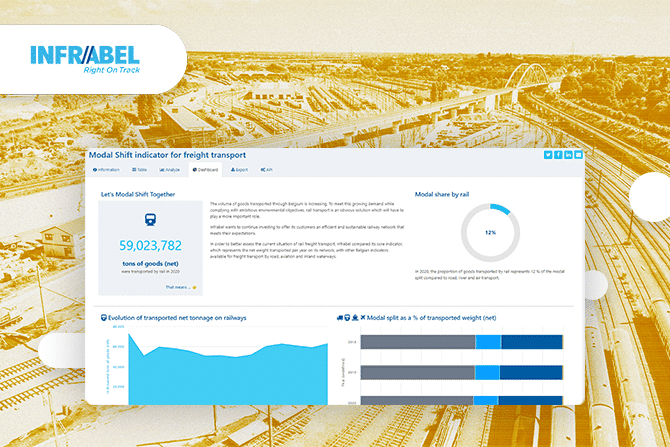 Over 45,000
Monthly downloads
Over 200,000
API calls per month
We chose to be proactive when it comes to data sharing, increasing transparency around all of our operations. This is helping us start a shift towards a more data-driven culture, with our people now coming up with a growing number of ways of using data to benefit us and our stakeholders.
Project Lead Open Data, Knowledge Center, Strategy, Corporate & Public Affairs at Infrabel
Download the success story