Company news
The Fabulous Story of our Nantes office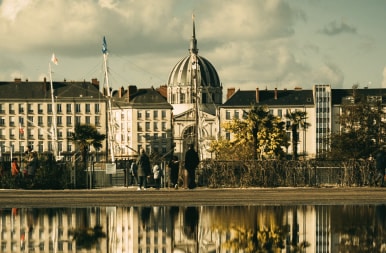 Originally based in Paris, Opendatasoft proudly opened a second French office in 2017, in the city of Nantes. What was their reason for choosing the Loire-Atlantique region?
Originally based in Paris, Opendatasoft proudly opened a second French office in 2017, in the city of Nantes. What was their reason for choosing the Loire-Atlantique region? These days, more and more people seem to be leaving the big city (apparently, Paris is no longer in vogue). Eager to find out why, I decided to interview those with first-hand experience… the members of the Nantes team.
Copy to clipboard

The Nantes office origins

Our story begins with David, one of Opendatasoft's three founders and its CTO. Since creating the company in 2011, David – a Nantes native – has worked hard to maintain his ties to the region. In fact, every week for the past nine years, he has been going back and forth between Paris and Nantes. His rhythm: 3 days in the Paris office, then working 2 days from home in Nantes… until the day in September 2017 when the company decided to open an ODS office in his city. "The timing seemed right," explains David. "We were enticed by the city's technical prowess and its outstanding pool of students. Eventually, we were convinced when two newly recruited members wanted to be based in Nantes."

In the beginning, the small Nantes team met in the open space of a coworking area. "It was less than ideal as there was very little space for meetings," says David. "So we set-up shop (and our computers) at La Cantine, a digital hotspot in the city center."

At the end of 2019, the company decided to step on the gas pedal and recruit new "devs" (aka developers, for those who are unfamiliar with #startup lingo). But the "dev" market is incredibly competitive: IT prodigies are courted by companies everywhere. How do you attract this talent? David's answer: "By duplicating jobs on Welcome to the Jungle. Once we were set up in Nantes, it was the logical next step." The strategy worked well… so well in fact that the small Nantes team tripled in size in just one year. The result? "We had to look for a bigger office. A few months ago, we moved to the Palace, a fantastic startup ecosystem focused on innovation."
Copy to clipboard

Nantes' advantages

More and more companies are setting up offices outside of Paris. And there is no shortage of French cities for startups to choose from. What makes Nantes unique?
The business side
Its tech roots
"Nantes is a great place to recruit tech talent," declares David. "It boasts numerous high-quality IT training programs (in particular, at the University of Nantes), which testifies to the digital roots of Western France." Nantes is also gaining momentum as an innovation leader. Doctolib, Alan, Talend, and many others have offices in Nantes for this very reason.
Its proximity to the Parisian HQ
The trip from Nantes to Paris takes two short hours. This proximity makes travel between the offices easy. In general, the Nantes team travels to Paris once per month. and last February, it was the Parisians who made the trip. The HR team insisted on holding the 2020 company kick-off event in Nantes. "We felt it was important for the Parisian teams to discover the city and their colleagues' lifestyle," explains Louise, Head of Talent Development.
The Palace
Ask anyone on the Nantes team: they absolutely love the Palace. "The building is geared entirely towards business, innovation, and collaboration between large corporate groups," explains David, "making it perfect for our activity." Sylvain, an ODS Customer Success Manager, sees the opportunity to work alongside other software companies and SMEs as a big plus. "At the Palace, everyone works together. It's perfect for networking and recruiting. Simply put, it's a great place to work." Backend Developer Olivier agrees: "The Palace is an excellent place to work. I hope ODS will stay there for many years to come."
Its proximity to customers
ODS has always worked with customers in the region (Nantes, Centre-Val de Loire, Brittany, etc.). "Our customers like knowing that we are based locally," explains David. "They can count on us being as familiar as possible with their issues."
On the personal side: a pleasant living environment
There's a reason why Nantes' population has skyrocketed in recent years. Sylvain says Nantes is "the perfect mix of culture, lifestyle, and dynamic labor pool, with an unmistakable festive feel."
Olivier adds: "Nantes is big enough to have everything you need without being overwhelming. It offers a pleasant living environment with high-quality public transportation. It is also a great place if you like to get around by bike."
Full Stack Developer Hugo concurs: "Nantes is a young, dynamic, and manageable city. It is a nice place to live and lets you hit the right balance between your professional and personal life. You can walk, bike, or scoot to the office, and we are close to all the beaches…" Ah, the beaches! The entire Nantes team agrees: being close to the ocean is a huge plus. "You are there in no time!", adds Olivier.
Copy to clipboard

The difficulties of coordinating between two cities

There are also some downsides to opening an office outside of Paris. It is a real challenge to maintain ties between the various teams. "We are not trained to work remotely as a team," declares David. His advice? "Set up rigorous processes, and, above all, over-communicate. The goal is to keep the connection, and therefore to communicate as much as possible during the first few months, even if it means adjusting later." The ODS teams have learned this from experience. "With two tech recruitment hubs, we have been forced to come up with new ways of working," the CTO explains. These methods were put to the test during the French strikes of 2019 and the Covid-19 pandemic. "These events showed us that our systems are effective. We organize regular team meetings and our methods are based on interaction. We value all our workers' ideas and do everything in our power to prevent barriers from forming."

What does the Nantes team think? For Sylvain, "it is easy to keep in touch, as long as you meet the teams in Paris during onboarding. You also need a manager who communicates a lot and a team that gets along. After a while, it becomes natural. And with everyone working remotely due to Covid, it is like we are all in the same place."

For Olivier, "it does not seem to be too much of a problem. Regular trips between the two offices help, even if travel has taken a back seat because of the epidemic." As we all know, the current crisis pretty much rules out face-to-face contact, which some employees miss. "Remote work has deprived us of casual office meetings," laments Hugo.
Copy to clipboard

Looking forward

Soon, David will have to break down our fabulous office's walls at the Palace to make more room for the increasing number of Paris employees hoping to move to Nantes. During the past few months, two workers from the Paris office have joined the team in Nantes: Fanny from Sales and Carole from CSM. "We have never really encouraged or discouraged these moves," explains the CTO. "But deep down, we knew that by creating the Nantes office, many of our Paris employees would be tempted to move away from the big city."

And there is no sign of the Parisian exodus subsiding. In fact, it has even gained momentum since the end of the lockdown.

Because of the pandemic, David has also begun to question the frenetic pace he has maintained for all these years. "The crisis has shown us that we can communicate extremely well at a distance, and this observation is leading me to rethink the way I manage my time between Paris and Nantes."

David will therefore be spending more time in this enticing office which is sure to keep growing in the future.
Copy to clipboard

Bonus: City tips from the Nantes team
The Printing Museum (for a demonstration of the machines in action)
Beillevaire "crémets nantais" desserts
The gospel scene, in particularGospel Rhapsody
"Le Voyage à Nantes" (art installations throughout the city)
A trip by train to the coast (e.g. Pornic)
"Le Bateau Lavoir" (bar on a barge with sunshine for most of the evening)
Island of Versailles and the Japanese Garden
A burger at "Berlin 1989"
Articles on the same topic :
---
You may also enjoy these articles
2020: 20 Opendatasoft Highlights
2020... What a year! We've lived through a year full of unexpected twists, most of which were not exactly cheery. It's time for a recap of this past year... and to highlight 20 reasons for Opendatasof...
2020: 20 Opendatasoft Highlights
2020... What a year! We've lived through a year full of unexpected twists, most of which were not exactly cheery. It's time for a recap of this past year... and to highlight 20 reasons for Opendatasof...