Data services
Make better decisions with SFR Geostatistics
The SFR Geostatistics solution allows businesses of all kinds to benefit from anonymized mobile data. We interviewed Claire Prost-Romand, Product Manager to learn more…
Data gives rise to new offers and services and represents a real growth lever for companies who know how to use it.
The French telephone operator SFR is one company that has embraced this concept. Its Geostatistics solution allows businesses of all kinds to benefit from its anonymized mobile data. Sounds intriguing, doesn't it?
I sat down with Claire Prost-Romand, Product Manager of the SFR Geostatistics solution, to learn more…
Copy to clipboard

Hi Claire! Can you tell us more about your role at SFR?

I'm the Product Manager for the SFR Geostatistics solution, a position I've held for a year. I oversee business activity such as the development of offers and communications and provide assistance to the SFR Business sales teams (customer support, sales support, etc.).
Copy to clipboard

It sounds like your plate is full! Can you tell us about the SFR Geostatistics solution?

Marketed by SFR Business, the Geostatistics solution uses SFR's mobile data to analyze the movements of people by way of geostatistical indicators compiled and anonymized in accordance with the recommendations of the CNIL (French National Commission on Informatics and Liberty). These indicators might include the number of people that visit a certain geographical location and the amount of time they spend there, measured at different times of the day.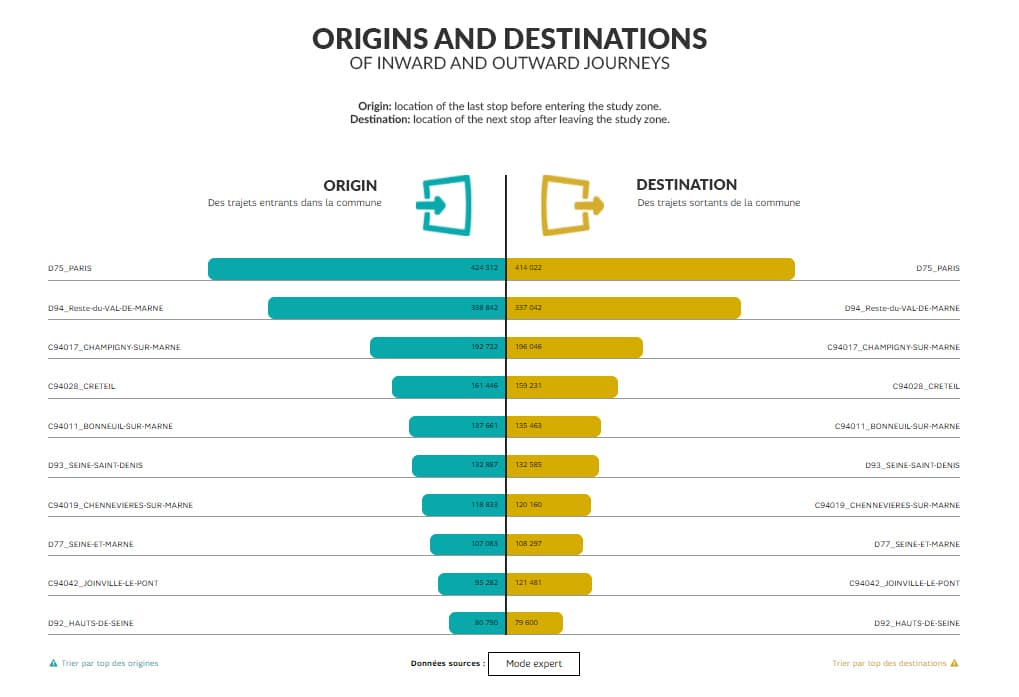 Copy to clipboard

How did the solution come about?

SFR Geostatistics arose during an R&D project involving a large-scale study for a transportation company. For this first use case, we developed indicators to measure movements between two geographical locations. These indicators were used to validate the project and design the future transportation line.

We then developed indicators to meet the needs of local authorities (place of residence of visitors, origin-destination matrix, etc.), tourism professionals (distinction between tourists/day trippers, starting point of visitors, length of stay, etc.), event organizers (average time spent by visitors, etc.), and retailers (customer catchment area, recurring visitors, etc.).

In 2018, we enhanced the Geostatistics offer and improved the user experience by implementing a dataviz solution using Opendatasoft technology.
Copy to clipboard

Wow, that's really interesting! What are the goals of the project?

Our goal is to launch a new data source on the market and offer a solution that uses big data to tally and analyze the movements of people. Geostatistics allows us to quickly collect and present both quantitative and qualitative data. It is also less expensive than traditional field research (manual counts, household surveys, sensors, etc.) based on small samples, old data, and/or data from reports.
Copy to clipboard

How has Opendatasoft helped you reach these goals?

By incorporating ODS software into SFR Geostatistics, we're able to provide an online data visualization interface that democratizes and facilitates the use of big data. Thanks to ODS, our solution can be used by all types of customers, not just data experts.
Copy to clipboard

Can you share a customer story with us?

Sure! During the first lockdown, AP-HP (the Paris hospital system) used SFR Geostatistics to analyze the movements of people throughout France. AP-HP hired the INRIA (French Institute for Research in Computer Science and Automation) to build epidemiological models using, among other things, data from the SFR Geostatistics solution. We helped AP-HP anticipate an increased need for hospital beds, identify Covid outbreaks and clusters, and improve its overall knowledge of the virus.
Copy to clipboard

How does the solution benefit your customers?

The solution assists our customers with every stage of the decision-making process. It also helps them understand their customers, analyze the activity and attractiveness of a region, evaluate performance, and design their infrastructures and services. SFR Geostatistics can even be used as an internal or external communication tool.
Copy to clipboard

What makes the solution so pertinent today?

SFR Geostatistics makes it possible to track the movements of people both locally and throughout all of France. It is designed for traditional industries such as the public sector, tourism, event planning, and retail, as well as new sectors in search of mobility data such as advertising, real estate, and the banking industry.

In the current context of the smart city and urban transportation planning, local authorities are confronted with the difficult challenge of analyzing the movements of people. This challenge is met by SFR Geostatistics.

What's more, the monitoring of indicators regarding visitors, places of residence, and commutes contributes to the scientific and economic research done on Covid-19. In this regard, SFR Geostatistics data has been extremely useful to AP-HP.
Copy to clipboard

In conclusion, how would you describe the Geostatistics offer in just a few words?

POWERFUL: The SFR Geostatistics solution draws from more than 21 million SIM cards (French and foreign) used by both the French and international population in France.

ACCESSIBLE AND SIMPLE: SFR Geostatistics makes the big data of mobile telephony accessible to all (not just data experts) by presenting the various indicators in a simple and intuitive online data visualization interface based on ODS technology.

COMPREHENSIVE: The solution also comes with 24 months of historical data, making it perfect for analyzing and comparing specific time periods.

Thank you very much Claire for this valuable information! See you back here soon for more datadventures!
---
You may also enjoy these articles