Company news
Why the Net Promoter Score (NPS) is important at Opendatasoft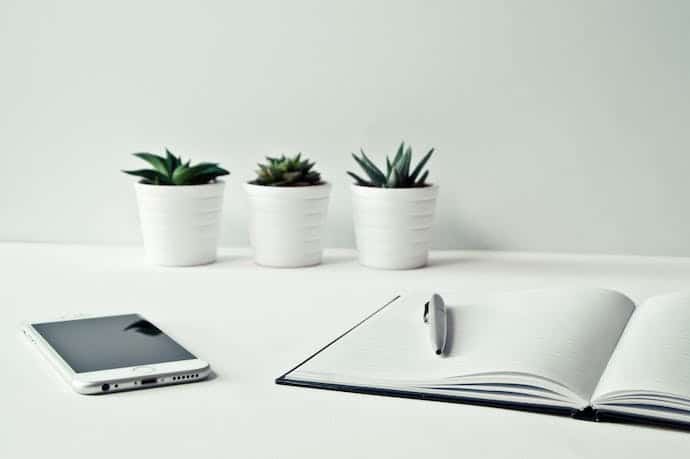 How are we measuring our customers' satisfaction and what are we doing to improve it? Let's discuss this with Ysée Rogé, our VP Customer Services.
Hi Ysée, you have been running Opendatasoft's Customer Service team since 2016. Over the past five years, you have built and trained a team that is entirely devoted to caring for customers. Your goal is to help them get up and running on the platform, make them more autonomous, and ensure the success of the new experiences they create with their data. In other words, each day your team works toward customer satisfaction.
Copy to clipboard

What makes the Opendatasoft customer experience so unique?

Being an Opendatasoft customer means having access to a trusted advisor: your Customer Success Manager (CSM), who is able to put themselves in the customer's position. They know the ins and outs of their line of business and how to mobilize all the forces that the project will need to grow.

Being a customer also means being sure that your voice is always correctly represented inside Opendatasoft, whether it is a matter of escalating a functional requirement to the Product team, or describing a use case to other teams so as to develop and highlight it.

Finally, it means being part of a worldwide community of data producers and consumers, and benefiting from the experiences shared by peers to move your own data collaboration project forward.
Copy to clipboard

What is Opendatasoft's approach to customer relationship?

At Opendatasoft, everyone loves challenges, particularly our customers' and users'. They are at the heart of our daily work, methods and corporate culture. In order to give them the attention they deserve, and the customized support their projects need, we have established a seven-stage customer journey.

Starting from the project's kick-off on to its implementation, then platform onboarding followed by getting helping, ending with creating engagement with continuous care, all of our Customer Service assets are structured around this journey, whose final destination is satisfaction.
Copy to clipboard

What indicators does Opendatasoft use to measure customer satisfaction?

For the customer journey's seven stages that I mentioned above, we have defined three indicators per stage. We call these customer journey metrics. They help us monitor trends, analyze pertinent facts, detect weak signals and, ultimately, improve both our product and services.

Among these indicators, we take a close look at the Net Promoter Score (NPS). To us, the most interesting thing about this score is the consistency it allows. For four years, we have been asking the same questions in our satisfaction survey sent to customers each Spring. We are thus able to accurately compare year-on-year results, analyze shifts and identify solutions to do better regarding notified frustrations. In other words, the NPS enables us to shape our continuous improvement methods.
Copy to clipboard

How does an NPS work?

The NPS shows the degree to which our customers are inclined to become ambassadors for our solution. To calculate this score, we ask them a single question based on a rating of 0 to 10: would you recommend Opendatasoft to a peer?

The answer given enables us to categorize users into three groups:
Promoters, who rated us 9 to 10
Passives, who rated us 7 to 8
Detractors, who rated us 0 to 6
The NPS is the difference between the percentage of promoters and that of detractors.
Copy to clipboard

What does this indicator add to the Customer Satisfaction Score (CSAT)?

At Opendatasoft, the CSAT is an average rating out of 10, obtained thanks to a very simple question: are you satisfied? It measures product, interactions with tech support and overall support satisfaction.

As our platform's functional scope is fairly wide and covers several skill levels, the CSAT remains a restricted tool to accurately evaluate satisfaction. For us, the NPS seems to more subtly reflect nuances within the reality in the field and the varied ways our customers use Opendatasoft.

To complete these quantitative indicators, we also cultivate active listening and regularly ask our customers whether we have kept our promises and how we can do better.
Copy to clipboard

Right now, Opendatasoft has an NPS of 44. What explains this good-level score compared to our industry's average?

44 is indeed a good score, especially since the average for SaaS software companies is 30. Customer satisfaction results from the convergence of various factors but, at Opendatasoft, I think that that little something extra that makes our customers so fond of our company is our approach to customer support.

The team is made up of developers, infrastructure and security engineers, as well as product managers who devote two days each month to answering user tickets. This means that the people who make the product are also the ones who troubleshoot for our users. This support structure is unique on the market and it's very virtuous.

Broadly speaking, I think that the values we share at Opendatasoft and, in particular, caring and integrity, explain this good score. The entire company is involved in solving our customers' challenges, starting of course with Customer Service, which offers cross-functional expertise that our customers don't always have access to in their own organization.
Opendatasoft's Net Promoter Score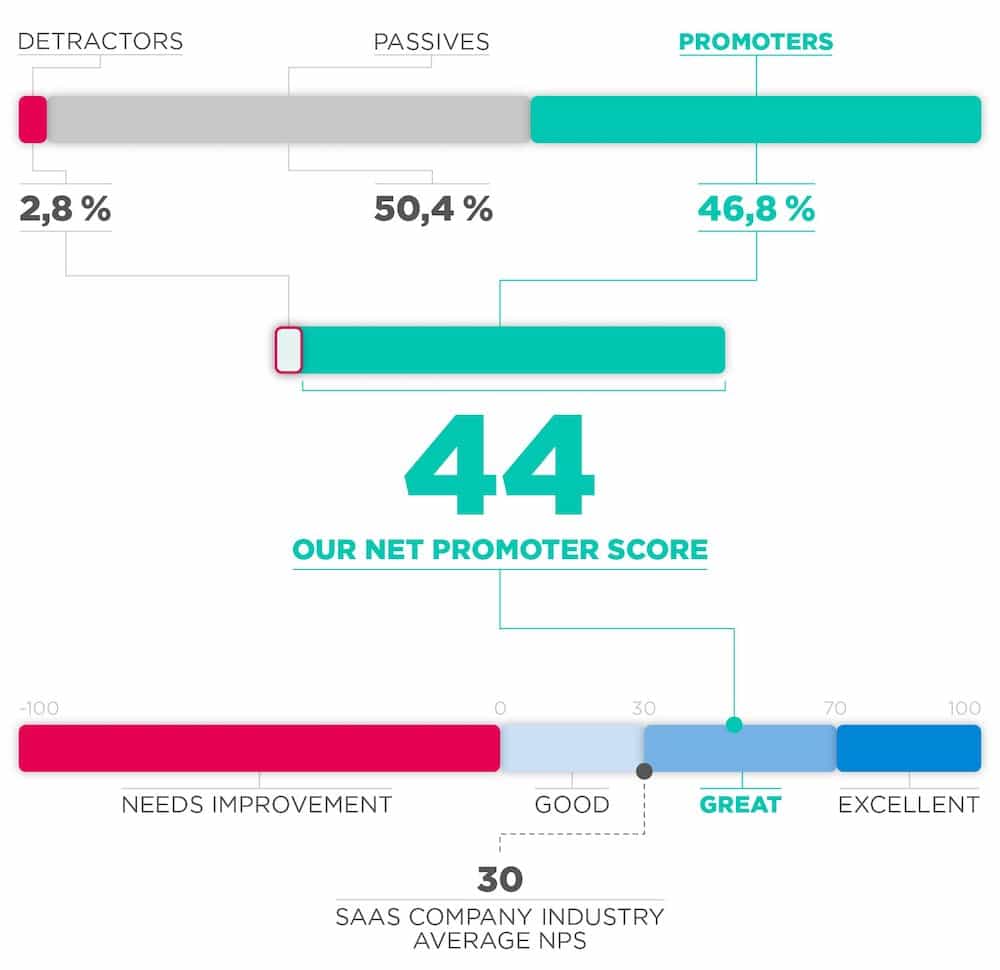 Copy to clipboard

So, tell us how your team is organized to satisfy customers?

The Customer Service team is made up of Customer Success Managers (CSM), who are in direct contact with customers and their projects; Digital Learning Managers, who are constantly adding new learning resources to our Academy inspired by the use cases communicated by the CSM; and Technical Project Managers, who are capable of resolving our customers' complex problems and personalization requests.

In addition, the team uses the Opendatasoft platform on a daily basis, working in particular on a dataset that reconciles all our information systems and enables us to view the progress of customer projects via a dashboard shared company-wide, called Customer 360°. In their answers to the satisfaction survey, our users have actually commended our teams' capacity to put ourselves in their shoes and pull out all the stops to provide the most appropriate service.
"The entire company is involved in solving our customers' challenges"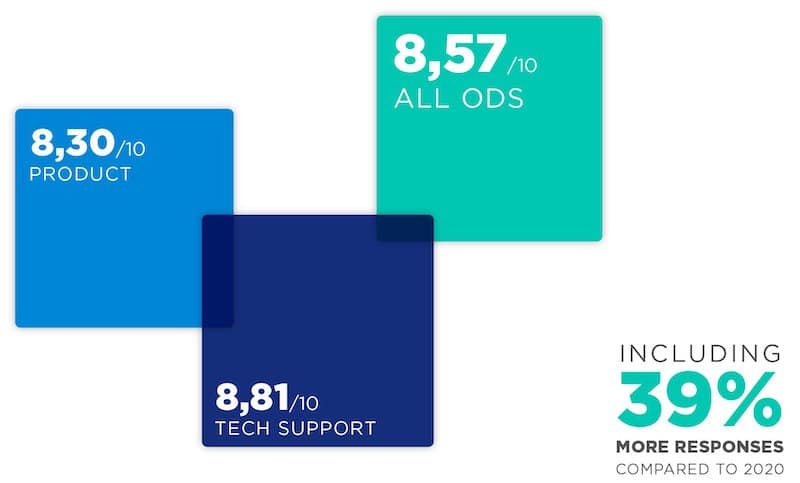 Copy to clipboard

Our customers have rated our platform 8.3/10. How do you interpret this figure?

It is a good score that is improving. The answers from previous years showed us where to channel the most of our efforts. Our Product team has thus prioritized a redesign of the interface to make it easier to navigate and use the platform. Measuring satisfaction enables us to constantly improve our practices for a better customer experience.
Measuring CSAT at Opendatasoft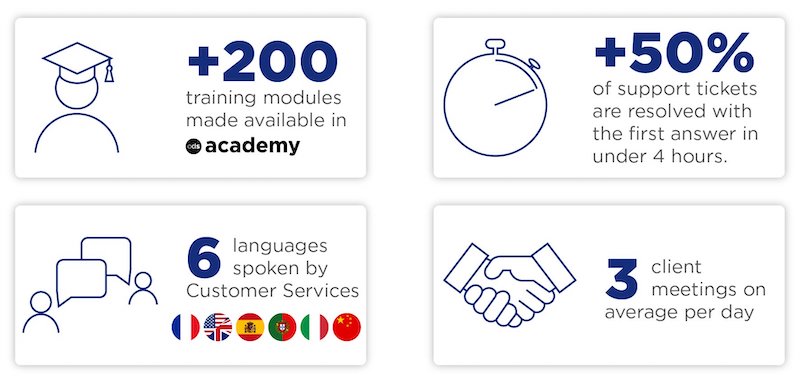 Copy to clipboard

What actions does Opendatasoft, and your team in particular, intend to implement to continuously improve our product and support?

In the short term, we are looking to identify the corrective actions that can be quickly implemented – i.e. quick wins -, thanks to a bonus question we slipped into the latest satisfaction survey. It focuses on the favorite and most irritating parts of the user journey on the platform.

In the medium term, we are going to put more effort into listening to our customers to better understand their use cases. To do this successfully, here we're trying to go out to meet users who are taking more time to adopt our platform. What can we do to make them trust it and want to use it?

Finally, given the growing number of customer projects, we are also working on a way to  systematize the sharing of best practices between Customer Success Managers. So, to allow them to share their expertise, we are developing regular sessions within the team where each CSM suggests the best way to proceed with regard to a particular customer issue.
Copy to clipboard

What do you think the main qualities of a CSM should be?

A good CSM should always be humble and acknowledge when they don't know something, so they can immediately seek the expertise of someone more specialized in the subject. It should also be someone who takes pleasure in showing others how to succeed. A passion for transmitting knowledge and an aptitude for teaching are therefore welcome assets. Finally, a CSM should have organizational skills enabling them to manage a significant workload, since they support several customers' projects at the same time.

This experience in running different data projects simultaneously is their greatest strength when it comes to advising customers efficiently and appropriately.
Copy to clipboard

Any final words you'd like to share with our customers?

I would like to say well done and thank you. Well done for all their projects that are making life easier for citizens and employees with properly shared data. And thank you for the quality of the exchanges that stimulate and motivate the entire Opendatasoft Customer Service team to work alongside them.

Articles on the same topic :
---
10 reasons why you should leverage open data to boost CSR projects
In an age when stakeholders demand concrete evidence of the social commitments touted by companies, data sharing is becoming vital to meeting the needs of CSR. Here are 10 good ways to use digital transformation to improve the corporate social responsibility of your organization.
10 reasons why you should leverage open data to boost CSR projects
In an age when stakeholders demand concrete evidence of the social commitments touted by companies, data sharing is becoming vital to meeting the needs of CSR. Here are 10 good ways to use digital transformation to improve the corporate social responsibility of your organization.