Product
Denodo and Opendatasoft: A common connector to ramp up data usage
The combination of Denodo and Opendatasoft offers organizations a unique solution, combining the flexibility and performance of data virtualization with the power of data sharing to enable all teams, expert or not, to create and distribute digital data experiences to fuel their internal and/or external ecosystems.
Organizations across all sectors store data within a continuously evolving IT infrastructure. Far too often, this data is centralized and siloed.
To overcome this challenge and use data more quickly, efficiently and flexibly, organizations are therefore looking to evolve their data management strategies by migrating to the cloud and adopting new approaches, such as data virtualization and open data.
Copy to clipboard

Opendatasoft: The data experience platform for sharing your data and creating added value

Opendatasoft's mission is to make data widely accessible and usable. Opendatasoft is an all-in-one SaaS platform that allows all teams to quickly build and share compelling digital data experiences with their internal and/or external ecosystems, from technical experts to the general public.

Connecting the Opendatasoft platform to your data sources makes it easy to:
Provide in-house self-service data so that all employees can readily access and use accurate, factual information in their day-to-day activities and decision-making.
Create data services to improve internal efficiency or to increase your appeal to partners and customers, particularly by launching new products and services, ultimately increasing your overall competitiveness.
Publish open data portals to engage transparently with external stakeholders, including consumers, the general public, the media, shareholders, and other audiences.
Copy to clipboard

Denodo: The virtualization platform that integrates all your data sources

Through data virtualization, the Denodo Platform offers an easy-to-implement hybrid (cloud or on-premise) solution that seamlessly integrates all SaaS data sources, on-premise sources, and other cloud sources in real time.

The Denodo Platform's Logical Data Fabric enables access to these disparate data sources without needing to know or understand their technical details, such as where they are stored or the format they are in.
Copy to clipboard

Opendatasoft and Denodo: Covering the entire data value chain with a common connector

Working together, we have created a new common connector to help our shared customer base cover their data's entire value chain. Our combined technologies offer organizations a unique solution that brings together the flexibility and performance of data virtualization with the power of data sharing. This makes it easy for both experts and non-experts to create and share digital data experiences to support their internal and/or external ecosystems.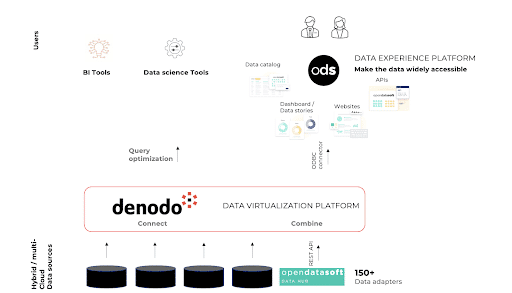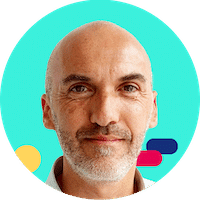 "We are thrilled to be partnering with a company like Denodo, which is well-known for its expertise in data virtualization. Our technological collaboration strengthens our commitment to making data available to everyone. We are committed to providing our customers with the best solutions to help them make the most of their data assets and achieve their goals."
President and Co-Founder of Opendatasoft
The best technology for data democratization
By combining the Denodo and Opendatasoft solutions, organizations can implement a comprehensive solution for handling large volumes of data while making it easily accessible and reusable for all stakeholders. This is the most effective strategy for leveraging legacy data distributed within and outside organizations.
Our new connector provides customers with the best tool for making use of their data both internally and externally. The benefits of this partnership include the abilities to:
Process large amounts of data quickly and at scale, as well as making that data clear and accessible to all stakeholders, regardless of whether or not they are experts.
Access real-time data securely via digital Data as a Service (DaaS) products.
Benefit from the world's largest open data hub, the Opendatasoft Data Hub, which is immediately available to companies on the Opendatasoft platform. Datasets can then easily be merged with their own sources.
Expand the data user community within organizations using ODS and its many features for data sharing, including data visualizations, KPI reports, performance indicator tables, open data portals and shareable data stories in all formats, such as via APIs, links, iframes, widgets, file exports.
"The key challenge of a corporate digital transformation project is to make data fully accessible. In other words, how do you democratize data so that everyone can enjoy an immediate data experience and updates? The Denodo-Opendatasoft partnership complements this strategy nicely by providing an industrial, seamless solution to efficiently speed the implementation of these key projects."
Sr. Director EMEA Alliances & Channels at Denodo
Articles on the same topic :
---