Product
"Building a data democratization platform means adapting to every organization's tech stack"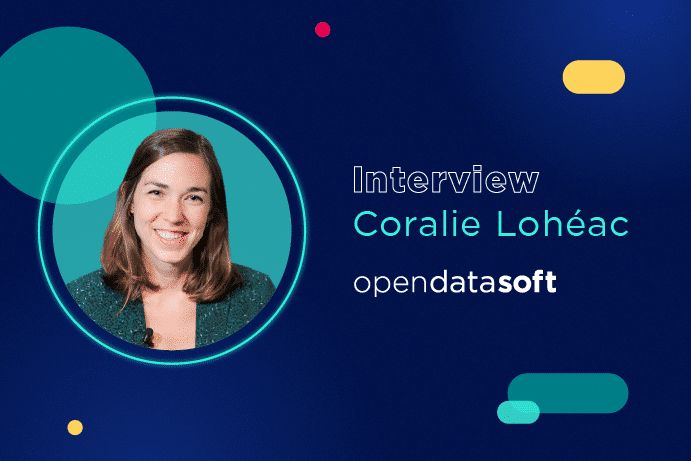 Our customers now enjoy improved connection features for retrieving data from a variety of sources, including SharePoint and Google Drive, and for quickly creating datasets. We sat down with Coralie Lohéac, the project's coordinator, to find out more.
Hi, Coralie. You've been Product Manager at Opendatasoft since March 2020. In that position, you've had an opportunity to lead the development of new connections to remote applications, such as SharePoint and Google Drive. Another project has become intertwined with this one, namely the redesign of the process for creating datasets on the Opendatasoft platform.
How did the need to rethink data sourcing and the interface for creating datasets on the platform come about?
We first wanted to allow our customers to retrieve data to be enhanced on Opendatasoft, no matter where that data is in their environment. To do this, we needed the platform to integrate even more closely into an organization's information systems by creating new technological gateways to different business tools. This idea was reinforced by recurring requests from our customers to connect Opendatasoft to two particularly widely-used applications: SharePoint and Google Drive.
At the same time, we noticed that the interface for retrieving data from different locations—locally on your computer, from a server, or from a remote application—lacked graphical and functional consistency, depending on the source being used. So, we seized the opportunity when improving the platform's connectivity to completely rethink the user experience involved in creating a dataset, starting with at the beginning with accessing source files.
Creating a dataset on Opendatasoft is the first step in building a data experience. All subsequent stages, from enhancement to publication, and visual representation to sharing, build on this. This fundamental project therefore lays the groundwork to support the platform's continuous improvement.
What can customers do now that they couldn't do before? And what can they do better?
They can connect to even more data sources and save valuable time when creating their datasets.
Our customers could already add data from Google Drive and SharePoint by downloading the data in CSV or Excel format and then importing it into Opendatasoft. But that's a manual operation, with no added value for them. Now, there is a direct, automatic link between the platform and both of these services. This link eliminates time-consuming tasks so that users can focus on quality and making the most of their data, such as with ODS Studio.
Our users also experience this time savings when they create a dataset. The process now involves a series of quick, guided steps, from connecting to third-party applications to adding the dataset's essential metadata. And to save even more time on top of that, we also give our customers the ability to save their connections so that they can create future datasets without having to re-enter a username, password, or API key.
What challenges did you encounter in terms of the design and UX?
With the number of available sources growing, it was important to bring coherence and fluidity. We did this by providing a unified, step-by-step process for creating a dataset, regardless of the source and type of data our users want to retrieve or their knowledge of data storage tools.
Whether they're looking for files from a business tool like Salesforce, from a folder on their computer or inside the ODS Data Hub, the process now works the same way, with the same starting point and the same end point. Only the intermediate steps have changed slightly.
What were the project's main phases, and which teams were involved?
Behind the design of the interface and the new connection features was a multidisciplinary team, consisting of back-end, front-end, and full-stack developers, along with a UX designer. And, of course, I was there to coordinate everything.
In the beginning, the project originated within the product team, which centralizes requests for new connectors and conducts early testing with users to understand exactly what they need.
Then, the design phase could begin, with important work done by one of our product designers to completely overhaul the interface while creating consistency with the look and feel of the overall platform. The project paved the way for a more general modernization of the Opendatasoft back-office.
Meanwhile, the development team tackled a major technical challenge by improving the platform's connectivity so that it can interface with most existing protocols (like Oauth2), which involved adjusting the structure of our databases.
You mentioned user testing early in the project. Were users involved at any other times?
The work began with tests to identify the pain points that our customers had been experiencing. This early testing helped us understand how customers added data to the platform and from what sources. We also learned which connections they were waiting for to help them work better.
Then, throughout the project, we conducted tests with a wide range of customers working with different structures, in different roles, and speaking different languages. They gave us a lot of great information about the fluidity of the new process we were proposing. We then made sure to continuously circle back with the design team to make the experience of creating a dataset more logical and intuitive.
We also ran some tests with the team at Opendatasoft to further refine what we were exploring with customers. They have been a great source of improvement. Since most of our employees are also Opendatasoft users, their feedback was especially important, as were the feedback we received from the Customer Success Managers (CSMs), who are closely involved with our customers' projects and practices. They were able to tell us a lot about what our customers needed.
After introducing the new interface to a portion of users, it is now available in beta for all users. How will you monitor satisfaction?
We are already observing massive adoption of new SharePoint and Google Drive connectors, as well as frequent use of the saved connections feature. To make sure our users are satisfied and to keep improving the Opendatasoft platform's connectivity, we will collect qualitative feedback via regular polls and surveys within the product itself. We'll also measure customer satisfaction through feedback from the Customer Success team, and though requests users will send to our support team.
What future improvements can customers expect when it comes to connections?
Opendatasoft is committed to adapting smoothly and seamlessly to every organization's technological stack. We want to create lightning-fast, smart, and automatic connections between the platform and any business application, so that data can be easily retrieved, no matter where it is located. So, to answer your question, our customers can expect connections to even more third-party services in the coming months.
Articles on the same topic :
---