Product
From SharePoint to Google Drive, our new connections increase the value of your data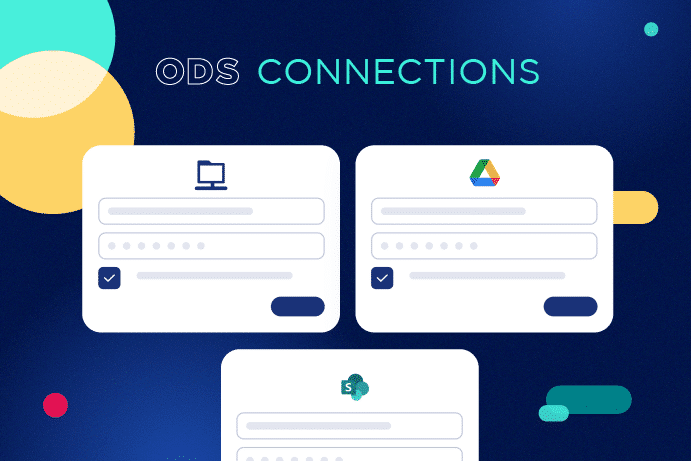 We are further expanding the range of connections between the Opendatasoft platform and third-party applications, ensuring integration with any technology stack. This improvement comes alongside another time-saving update: a complete redesign of the dataset creation process.
To help even more people use data within their teams and ecosystem of customers and partners, we believe that organizations must create unique, understandable experiences with their data. This is what our all-in-one platform delivers by letting customers design self-service data portals, data visualizations, and dashboards.
To bring these experiences to life and share them with others, you have to start with the crucial step of retrieving source files from your information system in order to create structured datasets.
We've recently rolled out a range of new connections to business applications to help you streamline your data collection, regardless of where your data is located, and we've also redesigned the interface for adding sources to a dataset. Let's take a look at the improvements we've made.
Copy to clipboard

Optimal integration with your tech stack

In an organization, data is found in multiple places, whether locally on a coworker's computer or on an FTP server. Data might also reside in applications used to organize files, such as Google Drive and SharePoint. These two tools are extremely popular in organizations, and now they have a direct connection to the Opendatasoft platform.
What does this change for you?
You can search for the files you need directly in these two tools' familiar environment, without ever leaving the platform.
There is no need to download data and import it into Opendatasoft. If the file is updated on SharePoint and Google Drive, it is also updated on the platform – it's literally that simple.
Break down even more data silos
These two new connectors join the 76 others that the Opendatasoft platform already provides for accessing source data files. These include connections with a variety of business applications, including Salesforce, Airtable, and ArcGIS*.
No matter where the data is stored in your organization's information system and regardless of its original format, from CSV to JSON, the Opendatasoft platform allows you to bring it all together in one place, where you can then use it in a more relevant and impactful way.
*Connections available based on your rate plan. Contact our team for more information.
Copy to clipboard

Clear time savings
View all your data sources at a glance
Previously users found it difficult to see the full range of possible options available on the Opendatasoft platform when it came to sourcing and automatically connecting to remote services. That's because there was no single interface that could provide an overview of every option. In fact, it was not uncommon for users to manually import files they had downloaded from tools to which the platform was already connected.
Good news! Now, users can see the full list of available options when they start to create a new dataset.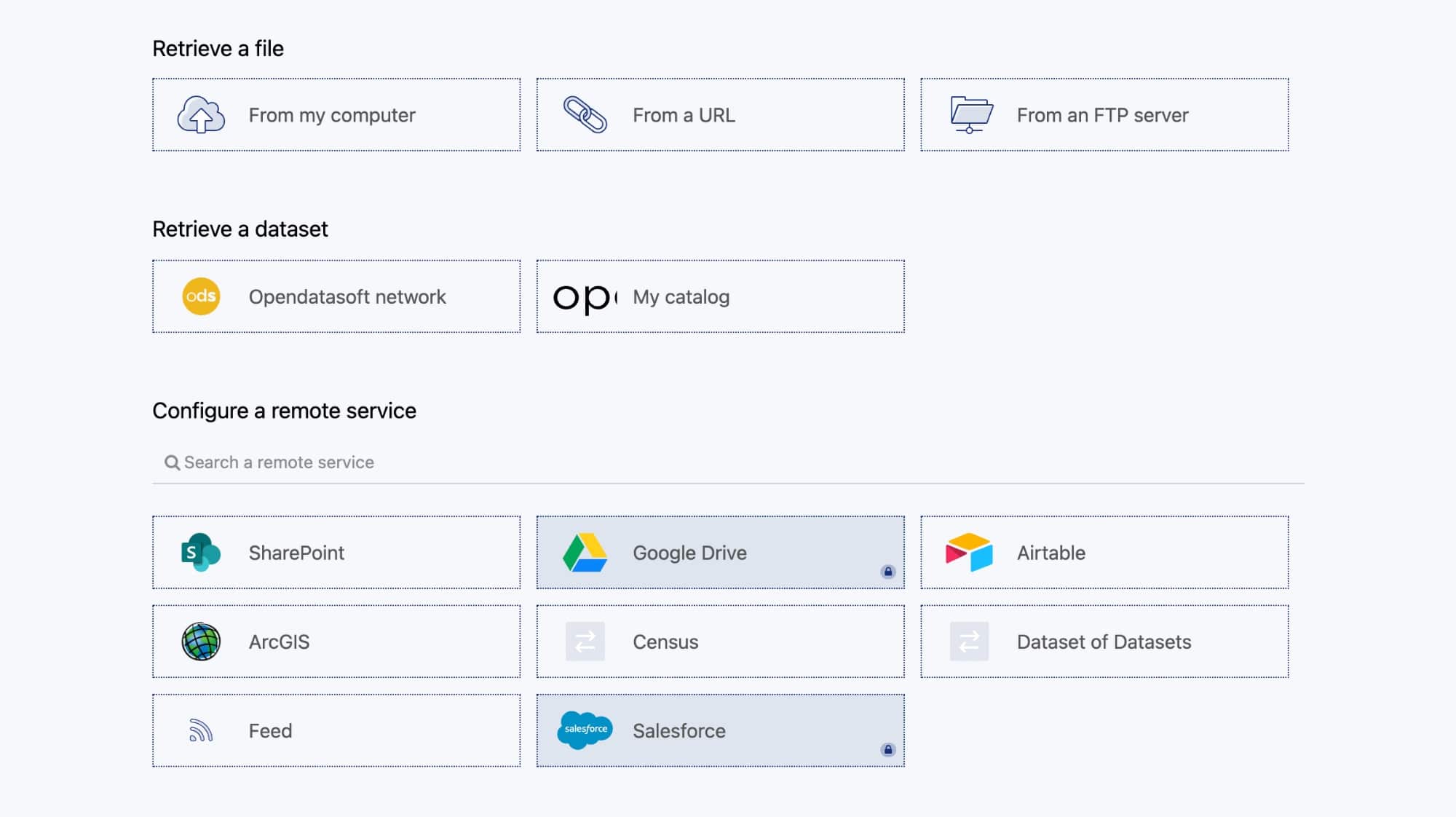 An intuitive user experience
Another innovation is that this creative process is now guided through easy, well-identified steps that maintain consistency, regardless of the source being used:
Configuration of the connection if the source is a remote server or application.
Immediate preview of the dataset.
Addition of basic information from the dataset.
The goal is to allow you to create a dataset with orderly, verified content as quickly as possible, along with key metadata like a title and an identifier. The dataset is then ready for immediate use to build future data experiences.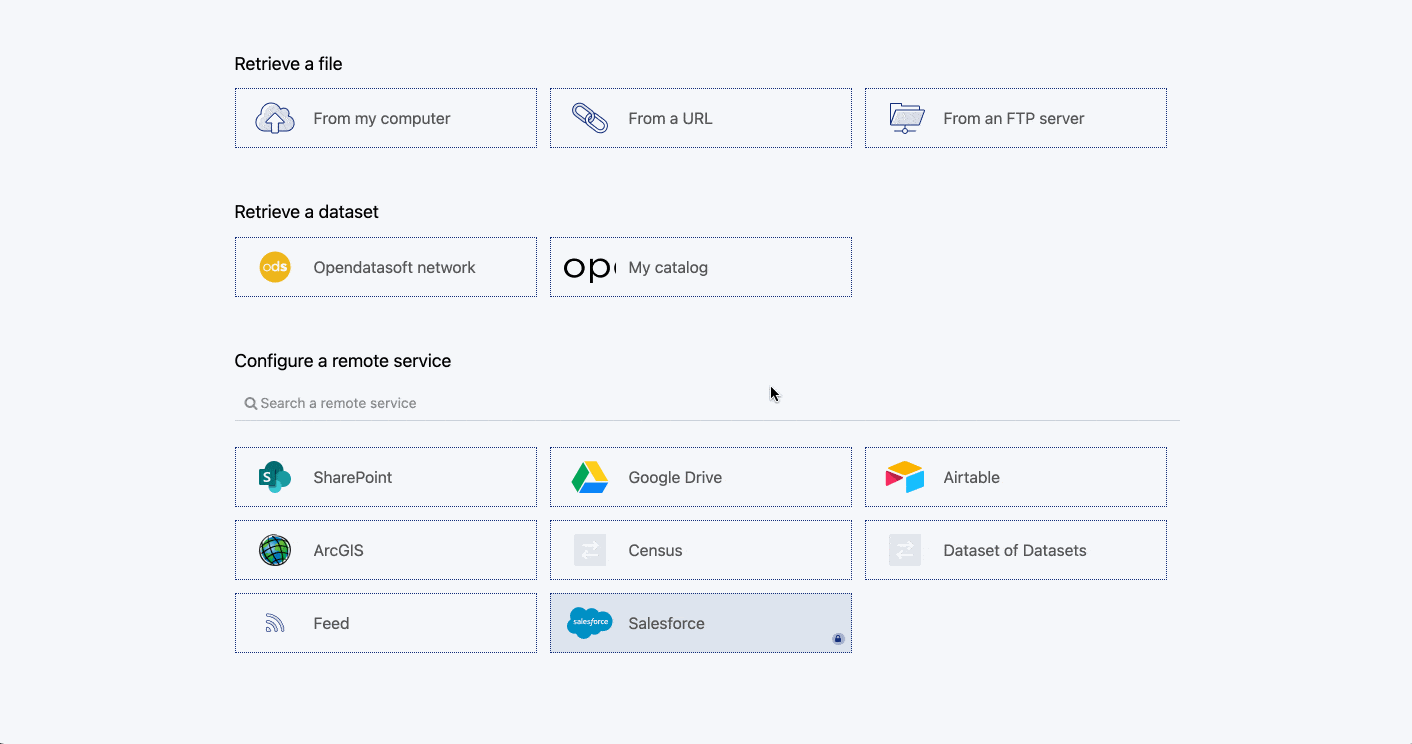 Speed up the creation of future datasets
Finally, because your time is precious, the platform now remembers your login information for remote servers and services. It then creates shortcuts, all within the same interface, that you can reuse over and over to create other datasets.
Articles on the same topic :
---