Product
How we're simplifying the data visualization experience with ODS Studio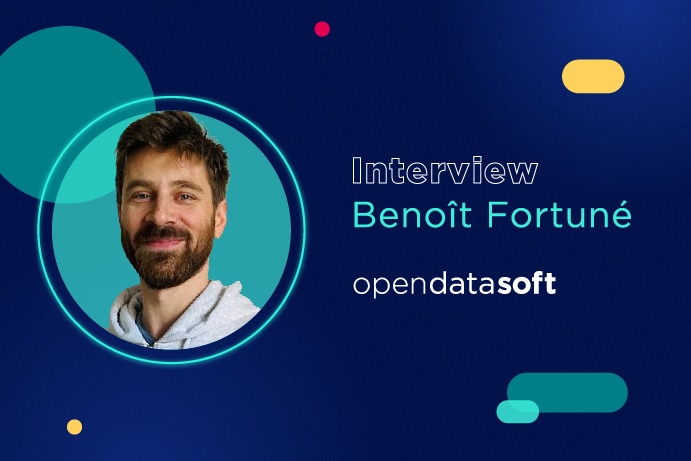 Opendatasoft recently launched ODS Studio, a no-code tool for creating data visualizations, to complement our existing HTML page editor. To learn more we talked to Benoît Fortuné, the Product Manager who led this project
Hello, Benoît. Opendatasoft has just launched ODS Studio, a tool that makes it possible for anyone to create data stories and KPI reports within organizations. You've been responsible for the project from its research phase to deployment, and are now supporting it as new improvements are launched, so we wanted to understand more about the process and benefits it brings.
Firstly, can you tell us more about your role and responsibilities at ODS?
I'm a Product Manager in Opendatasoft's Product team. In this role, I have three main responsibilities: listening, coordinating, and measuring. My job starts with listening to users. This gives me a better understanding of how people currently use the product and what they expect in the future as the platform evolves. This key step provides me with insight to then work with the design and development teams to create new features. Finally, I focus on user satisfaction by analyzing how people use the platform. As part of this I monitor the impact that new developments have on how our platform is used to check that we are moving in the right direction.
What is the initial requirement that ODS Studio meets?
The main objective was to make it easy to create understandable visualizations of the raw data that our users add to the platform. They already had the option of creating HTML pages for this and using widgets to aggregate data visualizations (such as maps, indicators, and graphs).
This method is powerful, but difficult for non-experts to master. People were increasingly coming up against limitations, despite very advanced dashboarding possibilities that the platform offers. Hearing feedback from users asking for simplicity, we decided to design a powerful, yet easily accessible dataviz toolbox that anyone could understand.
How will Studio change the day-to-day work of clients?
First of all, I hope it will make the platform more appealing to customers who were not using the visualization feature because of this complexity. We designed ODS Studio with the aim of helping users save time when creating reports and data stories. We wanted to provide them with as much guidance as possible during the creation process. The Studio provides two great advantages to our clients: greater usage of the platform and their data, more quickly. Essentially the aim of the project is for customers to use this new tool as much as possible while spending as little time as possible on it.
You are obviously not working on this project alone. Can you introduce us to your team?
Within the team, I work with a Product Designer, who creates all the navigation in Studio, as well as the visuals used in the interfaces. I also work with five developers: a lead developer, three front-end developers who design the interfaces, and a back-end developer who works on the logic behind the scenes.
How was the project's exploratory phase organized to cover a subject as vast as dataviz?
We started by defining the user profiles who Studio is aimed at, as well as researching the main operating principles. In this first step, we conducted customer interviews, held brainstorming workshops, gathered feedback, and analyzed existing exchanges with customers, focusing especially on feature requests and reported bugs.
Then, we defined the core service we would offer and outlined its key functionalities. In our case, we wanted to go from creation to the publication of a page composed of data visualizations. This exploration phase continued with the design and development of features, including the implementation of tests. As soon as an idea takes shape, we test it with users. We repeat this process until we achieve a satisfactory result.
During which phases of the project did you involve users?
At every phase! Our users are involved constantly, but in different ways. At the beginning interviews allow us to collect qualitative information to understand people's expectations, their wishes, their obstacles, and their frustrations. We have to be able to cover all of these areas, especially the biggest pain points. Customer interviews are essential in knowing which directions to prioritize and which to avoid.
So, talking with users made it possible to confirm or invalidate your early hunches? What were these ideas?
We knew what our users didn't want, which was to have to code. We also had an idea of what they wanted to keep from the existing platform, namely the ability to combine a wide range of content—graphics, maps, text, and images—within the same page.
We then hypothesized that it was best to focus first on a Minimum Viable Product (MVP) enabling us to prioritize the need for simplicity in the creation process. We verified this assumption through interviews and tests on fairly advanced models. These showed how users would be able to create a page with Studio, add blocks to it, set up a graphic on it, and switch from one menu to another. At the end of these user discussions, we were able to validate several UX principles.
And what were those UX principles?
Our users know their data well and know what they want to show. ODS Studio does not think for them, but instead, provides them a creative path through the process guided by clear, well-identified steps.
There is no HTML required, with users simply able to drag and drop sections on a page.
ODS Studio needs to help prevent people from wasting time on tasks with little added value. This is an important part of the page design. Studio offers predefined parameters to coordinate the colors used in visualizations and to ensure consistency in text size and style, for example.
Designing a new product is often fraught with pitfalls. What challenges did your team have to overcome?
From a technical standpoint, our main challenge was to combine content that works differently, all in one place. You don't develop a map like you develop a text editor, for example. Our developers also have to deal with a variety of functional needs. They need to be able to design a feature for some currently known need, while making strong technical decisions and also taking into account the fact that needs may change in the future.
Broadly speaking, the main challenge in designing ODS Studio is to create a truly simple experience for our users. Data visualization is a highly complex subject, and many software providers have opted for extensive features and technical coverage at the expense of ease of use and quick execution. They assume that users are completely familiar with the topic.
Our users know what is in their data, but they don't necessarily have the time to create dashboards, knowing that they will have to use code at some point. Our team has worked hard to ensure that, besides not needing code, all the actions to be performed inside Studio are quick and understandable. The terminology used to describe things is also very important.
I understand that ODS Studio wasn't always the name for the tool. How did the name come about?
The name "Allegory", which means expressing a thought visually, emerged from our early discussions within the Product team. But it was more symbolic than anything concrete, and it wasn't the right fit. Our testers came up with a better idea. Some people naturally started using the expression "design studio" when talking about the product. It seemed so obvious that we wondered how we didn't think of it sooner!
Studio has been live for a few weeks now. What have you learned from the initial feedback?
People are demanding, and we're grateful for that! We have received requests for very specific adjustments to certain features and terminology. We've also had requests for new content to add, such as maps or other types of graphics, which we are in the process of doing.
We took the risk of releasing ODS Studio without an exhaustive range of content so that we could offer our users a simplified creation experience as soon as possible. This V1 lays a solid foundation and paves the way for discussions with our customers to better understand what they'd like to see in the future.
So what developments can users expect to see next?
We are working to make it easier to edit by creating graphics that simplify ODS Studio even more, while also providing greater functionality. We are also considering design changes to improve understanding. Above all, we have just started designing the maps and the options for adding images, two highly requested areas that will keep us busy for the next few months.
What else would you like for ODS Studio to achieve?
We want customers to adopt it en masse! To analyze usage, we are going to look more closely at users who regularly build their pages in HTML with widgets and see whether these power users switch to ODS Studio, which is much easier to learn. And for those who didn't previously create any pages at all, we will check to see if they start using ODS Studio to enhance their data in KPI reports and data stories.
Articles on the same topic :
---
How to choose the right charts for your data?
Illustrate, share, show, demonstrate, develop… So many verbs to refer to the visual depiction of data. It's indeed for the purpose of "sharing data" that they're first and foremost expressed in a visu...
How To Tell Stories With Data
Improving your ability to tell stories with data is an important way to engage key audiences. This blog will attempt to shed some light on how data storytelling can help you deliver key messages and u...
How to choose the right charts for your data?
Illustrate, share, show, demonstrate, develop… So many verbs to refer to the visual depiction of data. It's indeed for the purpose of "sharing data" that they're first and foremost expressed in a visu...
How To Tell Stories With Data
Improving your ability to tell stories with data is an important way to engage key audiences. This blog will attempt to shed some light on how data storytelling can help you deliver key messages and u...