Public Sector
North Carolina – demonstrating the power of public sector data sharing
How can data sharing help different public sector organizations meet their changing objectives? To demonstrate its power we look at how multiple agencies and municipalities in North Carolina are harnessing data to increase efficiency, transparency and innovation.
Data sharing has the power to transform the public sector, increasing efficiency, boosting transparency, and enabling better decision-making.
Democratizing data and making it available to employees, citizens, businesses and legislators benefits all types of public sector organization, from state agencies to cities and municipalities.
Illustrating this, we work with a number of public sector clients across the state of North Carolina, helping them seamlessly share data internally and externally. This enables them to achieve their wider objectives in areas as diverse as budget management, the judiciary, smart cities, engaging citizens and attracting businesses and residents to the state. While each organization chose the ODS platform independently, they have all been able to benefit by sharing best practice by working with Opendatasoft.
Copy to clipboard

North Carolina Office of State Budget and Management - increasing transparency and supporting more informed decision-making

The North Carolina Office of State Budget and Management (OSBM) is responsible for providing objective information and analysis to ensure a balanced state budget and effective stewardship of public resources. It works collaboratively with agencies and departments to bring together their data and make it easily available internally and externally.
OSBM's LINC open data portal, built on the Opendatasoft platform, contains a wide range of datasets, covering areas as diverse as population (including census data), labor force, education and agriculture.
LINC is used by a wide range of different groups in multiple ways, from open data to internal self-service:
Novice users, such as citizens, those looking to move to the state, or school children researching projects, all requiring specific information.
Mid-tier users, such as public employees at OSBM, within state departments and inside municipal government, looking for more detailed information to support decision-making.
Advanced users, such as researchers and data scientists who want to access bulk data to monitor wider trends.
LINC is designed to meet all of these needs. It combines an easy-to-use interface with the ability to quickly create powerful data experiences, visualizing information through maps, charts and graphics, with data accessible via API calls.
All of this means that government employees are able to plan more effectively, based on access to comprehensive, up-to-date data. At a public level LINC increases transparency and engagement, showing clearly what is happening in the state at a statistical level, and explaining policy decisions.
Read a full case study on OSBM and its benefits here.
Copy to clipboard

The North Carolina Judicial Branch - sharing information to increase openness and effectiveness

The North Carolina Judicial Branch is responsible for legal affairs within the state. Its administrative agency, the North Carolina Administrative Office of the Courts (NCAOC) delivers the support required for the court system to operate efficiently and effectively, increasing accessibility and transparency.
To achieve these aims through increased data sharing North Carolina has worked with Opendatasoft to build its own open data portal. This delivers access to raw data around caseloads, available to the general public, lawyers and researchers. It also uses an advanced, informative dashboard to share this information in a visual way with legislators, attorneys and citizens.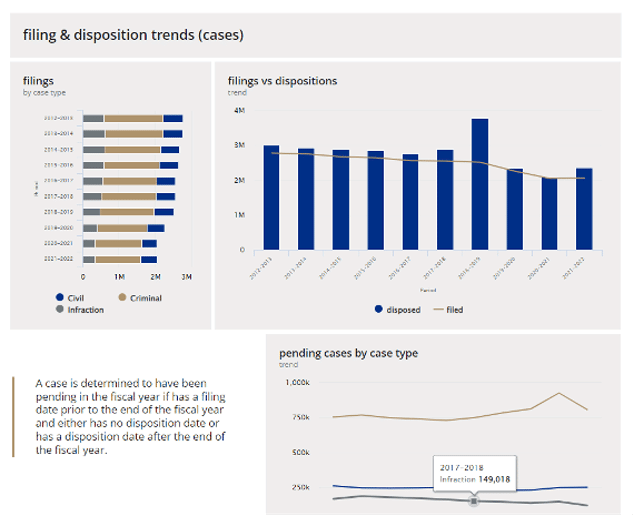 The easy-to-use dashboard allows visitors to filter information (such as by county, court, offense or case type), creating a personalized view to meet their specific needs. To democratize data, all information is clearly explained for non-legal specialists, increasing understanding. Users, such as legal officials and legislators at a state and municipal level, can also explore trends over time and access information that can be used to underpin public policy and resource allocation. Overall, the portal provides invaluable information to the state judiciary and legal profession, increasing efficiency and enabling faster, more informed decision-making, all while demonstrating openness to the wider population of North Carolina.
Copy to clipboard

Town of Morrisville - building a data-driven community and creating a cost-effective smart city

Situated at the heart of the world-renowned North Carolina Research Triangle area, the Town of Morrisville has a population of nearly 30,000. While a relatively small municipality, it is committed to embracing smart technology and data to deliver enhanced services that attract and retain citizens and businesses.

In 2019, the Town created its Smart Morrisville program and as part of its strategy, selected Opendatasoft to provide the platform to underpin data sharing through its new open data portal and other initiatives, such as a mobile app.

Morrisville began its program with its Connected Parks project. Internet of Things flood and ground moisture sensors were installed at one of its parks and across its soccer pitches. If the park floods or fields are too wet for play, this data triggers an automatic closure of the park gates, with digital signage at the entrance explaining which part of the park is closed, and information shared through text alerts.

A second project harnesses open data to increase transparency and efficiency. Information on all permit applications is available through a drill-down map. Citizens can instantly see the exact status of their application, avoiding the need for them to call, freeing up staff time to focus on more complex queries.

Morrisville has ambitious plans to extend its program, with new areas including smart trash cans, publishing police incident data and creating an app which provides a data-driven, one stop shop for citizens. Through its approach, Morrisville is successfully using data to engage with citizens, businesses, and other stakeholders.

Download a full case study on the Town of Morrisville here.
Copy to clipboard

Town of Cary - becoming smart and connected with open data

The largest town in North Carolina, Cary aims to use data to connect its communities, become smarter, and increase transparency. Users of its open data portal can download datasets, create maps and data experiences, and even suggest new data sources to add.
As part of its program Cary launched an innovative smart city project, analyzing wastewater for traces of opioids. This not only provided a more detailed picture of the issue of addiction in the town, but also helped target actions to where they would deliver best results.
Due to its location Cary is prone to flooding due to stormwater surges. To provide a predictive, early warning system it has therefore installed IoT water sensors and rain gauges across the town. Real-time information from these devices enable Cary officials to make faster, better informed decisions such as closing roads and rerouting traffic to prevent drivers from encountering floodwaters.
To help further extend the use of data, Cary has also created a range of data stories on specific topics, such as the town's trails and greenways. All of these aim to bring data to life for users, whatever their interests and technical skills. Showing its success, the portal now receives 325,000 average monthly API calls and to date has won seven smart city awards.
While they are very different organizations, municipalities and state agencies have the same needs in terms of data. They all need to unlock its power and share it with internal and external audiences in ways that are seamless and make it easy for everyone to understand and learn from. By providing the data experience layer the all-in-one Opendatasoft platform enables this sharing, encouraging wider usage and underpinning real data democratization.
Articles on the same topic :
---