Data Trends
Open Data Institute: Addressing the fundamental questions around data use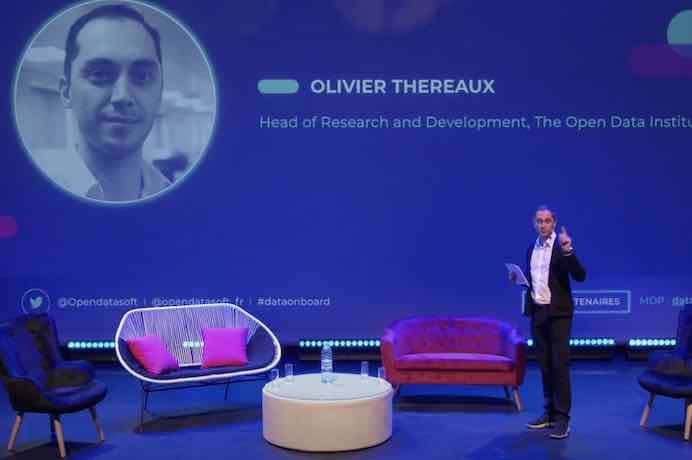 How can we drive data democratization? Olivier Thereaux of the ODI shares his thoughts on how data use is changing thanks to the pandemic, who today's data people are, and how roles will change in the future.
Democratizing data use starts by understanding how people want to access and reuse data.
Speaking at Data on Board 2021, Olivier Thereaux, Head of Research and Development at the Open Data Institute (ODI) delivered a compelling keynote speech on how data use is changing, explaining who today's data people are, and how roles will change in the future. This blog outlines the key themes of his presentation – for more watch the full session here.
The ODI is a non-profit with a mission to work with companies and governments to build an open, trustworthy data ecosystem. It works with a range of organisations, governments, public bodies and civil society to create a world where data works for everyone.
During his presentation Olivier discussed three key questions:
Copy to clipboard

What is data and how does it create value?

Data means different things to different people. While data professionals might see it in terms of information they are accessing within their organization or jobs, consumers can see it very differently, as Olivier pointed out. They understand data to mean their personal data – and are increasingly concerned about this being collected and monetized by organizations.

This brings questions about ethics and privacy. In fact, research by the ODI found that 90% of consumers across Europe said it was vital that their data was used and collected in trustworthy and ethical ways. However, there is an enormous issue when it comes to who people trust with their data. Local and central government came top, but only 30-40% of respondents trusted them – and this trust level fell to under 10% for social media and advertising companies.

A better definition of data helps understand and bridge this trust gap. Olivier defines data as "how we measure what we care about, so that it enables better decisions." This makes it personal – every person cares about different things, so the type of data will vary widely.

Building on this, we can better understand how data delivers value. On its own data has no value – it is only when it is used that it provides benefits. Unlocking this potential means getting the right data to the right people so they can make the right decisions. It is all about sharing – making the data available in this way is estimated to create 20-50 times more value according to the OECD. That's the compelling reason behind the need for opening up data.
Copy to clipboard

How has the pandemic changed attitudes to data use?

COVID-19 has clearly caused a huge amount of death and suffering, which cannot be downplayed. At the same time Olivier believes it has also had a major impact on how we view and share data.

Firstly, it has focused us all on the data around the pandemic – case numbers, hospitalizations and vaccinations – all accessed through graphs and visualizations. It has demonstrated the importance of data to whole new audiences.

Secondly, it has increased the volumes and types of data that are being collected and shared. Grassroots organizations created apps to collect the symptoms of those with COVID, helping better understand the disease. This data then needed to be collated and shared, with agreement reached on definitions and standards very quickly to enable interoperability and comparison of figures.

The private sector also saw how it could contribute by opening up its own data. While some telecoms companies were already sharing anonymized mobility information, it became much more important to tracking flows of people and seeing the impact of the pandemic. In London for example Mastercard shared payment information to show the success of the lockdown while SFR worked with the Paris Hospital to track mobility.

All of this has fundamentally changed attitudes to data and brought it centre stage – it is now truly something that everyone cares about in Olivier's view.
Copy to clipboard

Who are the data people – now and in the future?

This change in the role and importance of data has an impact on Olivier's third question "who are the data people?" In the past they have been data professionals, experts that work closely with data every day and use it to make decisions or to share with others.

Open data changes all of this – it creates a wide range of new roles. It is very like the explosion of jobs associated with the web. Back in the 1990s you could be a web developer or webmaster, as Olivier was. However, now there are dozens of jobs in the web industry: front end developers, back end developers, user experience designers, user researchers, graphic designers, information architects, DevOps, reliability site engineers … all of these job titles didn't even exist 10 years ago.

As Olivier said, we therefore now need to think about the roles we require to enable that 20 to 50 times value creation by making sure that data can be used by the people who need it. This means new types of data people. We need to have people who will be the curators, the librarians, the storytellers of data. We need people who are going to be the intermediaries. We need to have people who are going to be not only creating the legal frameworks, the data sharing agreements, but also the future institutions, that are going to be able to pull data together and to steward it on behalf of others. We will need data ethicists, who will be able to make decisions for us as to whether data should be accessed by this or that actor. We'll need to have mediators because the moment you have data that is pulled from multiplicity of actors, some of them will be big, some of them will be small, there will be a differential of power. How do we make sure that the people who have done the hard work collecting data or refining data, get compensated, and get value from the data that has been created?
Copy to clipboard

Looking forward to an open future

All of this means that there is a whole world of new data people that must be invented. The industry is only at the beginning of creating value from the collection, the use and the sharing of data, what the obstacles are and how they can be overcome.

Summing up, Olivier pointed out that it is therefore time to think about how to create value and new data institutions by broadening and reinventing the definition of who the data people are. In a world of data democratization everyone should be a data person.
---