Product
What is the Opendatasoft Data hub?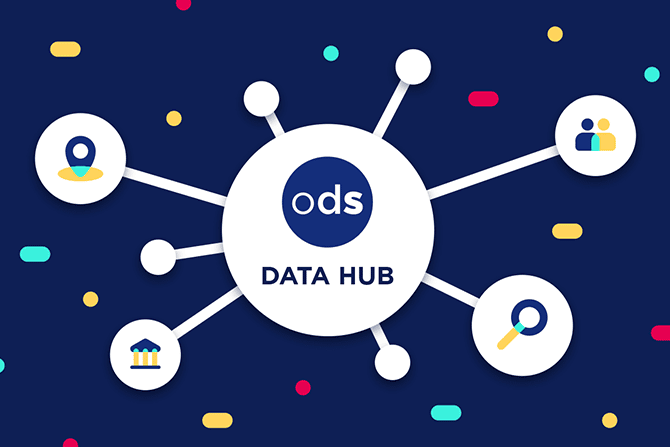 The Opendatasoft Data hub is a platform that gathers more than 29,000 open data datasets published by public and private sector organizations. It also hosts more than 600 reference datasets, maintained and updated by our teams.
The Opendatasoft Data hub is a platform that gathers more than 29,000 open data datasets published by public and private sector organizations. It also hosts more than 600 reference datasets, maintained and updated by our teams. 
As well as their original use, these datasets can deliver value to many other players. That's why we make them available through an intuitive, easy-to-access platform that encourages reuse in new and innovative ways.
Copy to clipboard

A data catalog accessible to all

The Data hub's catalog contains more than 29,000 datasets and is constantly growing. As soon as an organization opens data publicly on its portal, it is added to the Data hub catalog.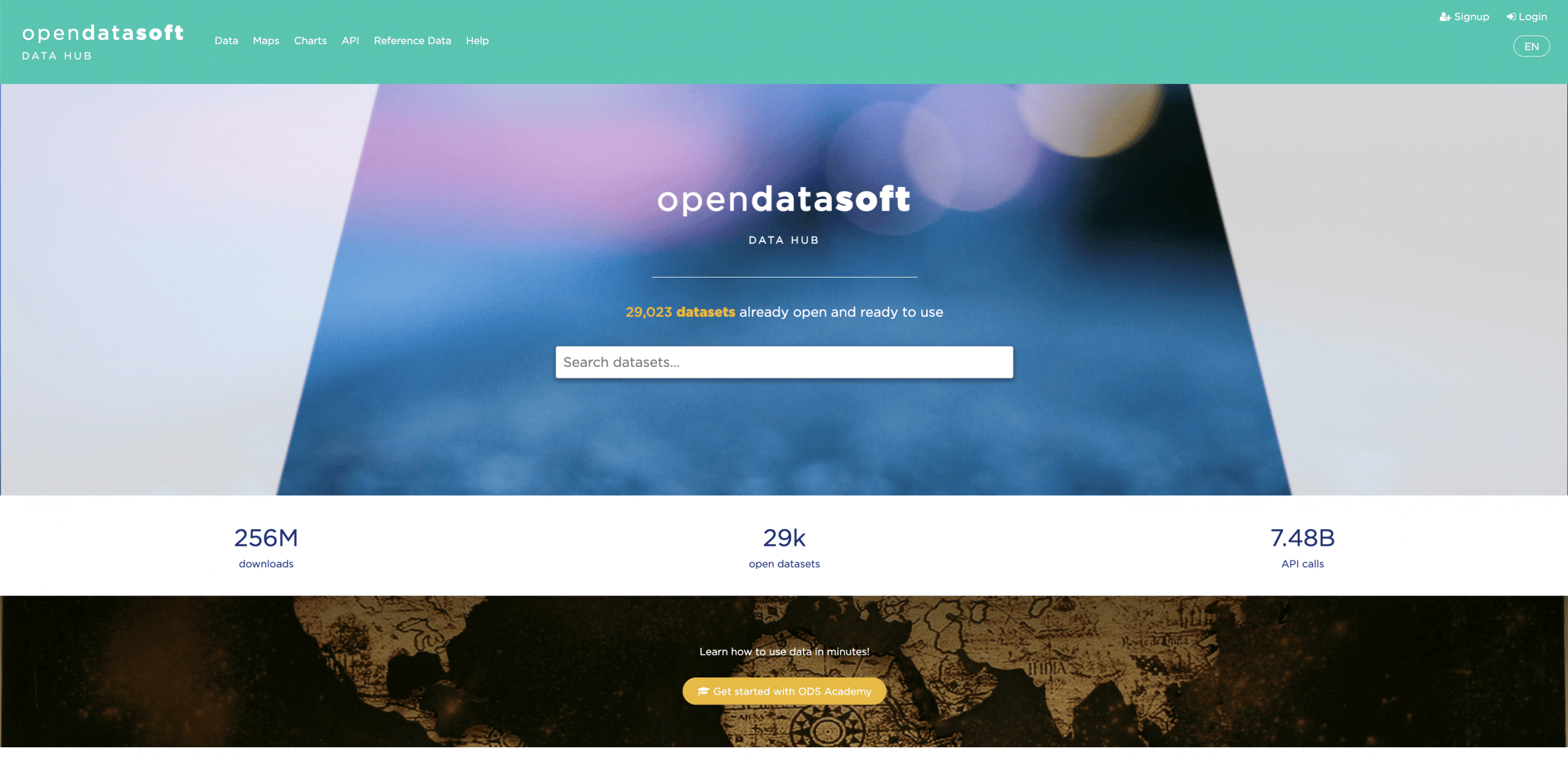 Users can browse the catalog using the search function and a series of filters, such as language, theme, producer, keyword, modification date, or type of data visualization.
For each dataset on the platform, users can :
View information about the dataset: the owner, creation/modification date, number of downloads, etc.
Access different visualizations: maps, tables or graphs.
Reuse the data: via APIs generated by Opendatasoft or through different export formats, including CSV, Json, Excel, GeoJson, Shapefile, and KML.
Copy to clipboard

The 600 reference datasets on the hub

The Opendatasoft Data hub includes 600 reference datasets created by official data producers and authorities. Our teams verify the consistency and structure of the data, then contextualize the datasets by applying geographic or demographic references.
This data is fundamental: it contextualizes and enriches our clients' data portals, directly or indirectly:
via joins using this administrative or referential data to enrich their datasets
because this reference data contributes to some of the enrichment processors that are part of our platform, such as the "geographic join" and "administrative division recovery" processors.
Reference data is organized in different thematic packs, such as geographic, demographic, economic, housing, or work-related datasets.
What are our users' favorite reference data sets?
A complete database of US Zip Codes, searchable by state or town
World air quality, 231,965,688 air quality measurements from 8,469 locations in 65 countries collected by OpenAQ
Records of global weather, collected by the National Oceanic and Atmospheric Administration and dating back to 2015
Electoral wards and divisions across the United Kingdom, broken down by county and region
Census divisions and sub-divisions in Canada, searchable by type and available in English and French
Most of the reference data includes educational visualizations. Do take the time to explore the depth of the data on offer!
Copy to clipboard

Tools to encourage data exploration and reuse

Opendatasoft Data hub users also have access to tools that allow them to manipulate data in the catalog using the Maps and Analysis tabs.

With a few clicks, you can select one or more datasets and use them to create a map or a chart. You can then easily share this visualization through an automatically generated iFrame code or a URL.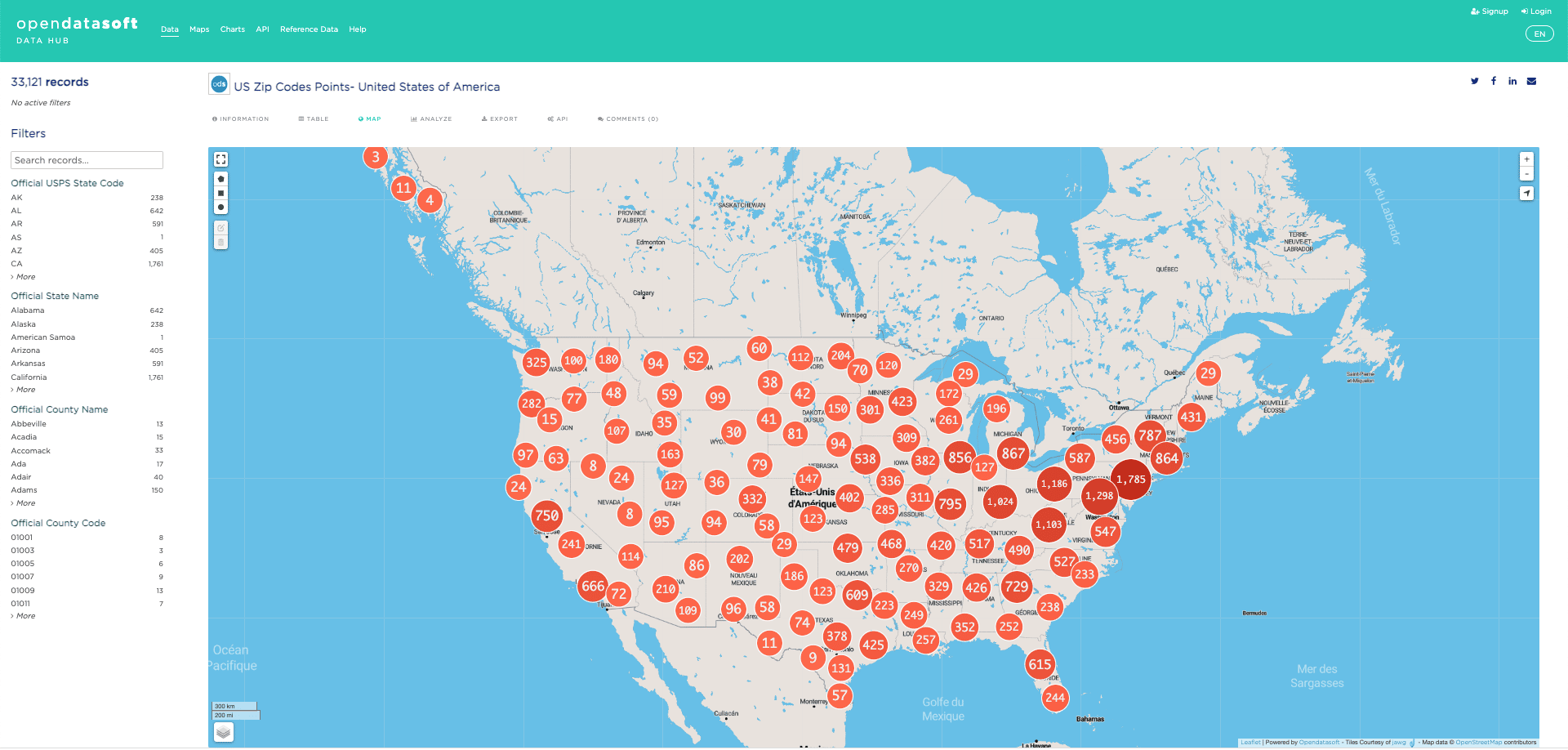 Copy to clipboard

Who can use the Opendatasoft Data hub?

Anyone can access the Data hub and reuse the data and tools provided, enabling the datasets to be used in many different ways. Often, it can allow users to work in ways that they couldn't do before. For example, without geographical reference data it is impossible to present your data in the form of a map.

Our customers are the first to reuse these datasets thanks to a seamless connection with our platform, enabling them to enrich their data experiences.

Here are a few examples of reuse by our customers:

Research organization Kapsarc enriches its datasets with federated data from the World Bank via the ODS Data hub, adding information on comparative global financial trends to help the analysis it creates.

Insurer Lamie mutuelle uses the datasets available on the Opendatasoft Data hub to enrich customer profiles with public data. For example, it retrieves data on corporate clients, such as their address, zip code, number of employees, and the sector they operate in. This adds value by allowing the organization to enrich its customer knowledge with high-quality, certified external information.

ICF Habitat, the real estate subsidiary of railway operator SNCF, relies on the Data hub's repositories to consolidate its data internally and create customized data visualizations to manage its real estate assets. This data enables it to create geographically precise dashboards and interactive maps to monitor business performance.

Leading bank Groupe BPCE uses the Opendatasoft Data hub as a single source for all public data that it uses, helping make data sharing seamless. For example, it is able to easily create map-based data visualizations that show where all its branches are located.

Want to know more about Opendatasoft's Data hub? Contact us now!
Articles on the same topic :
---