Data Trends
Open data lessons from pioneering bank Groupe BPCE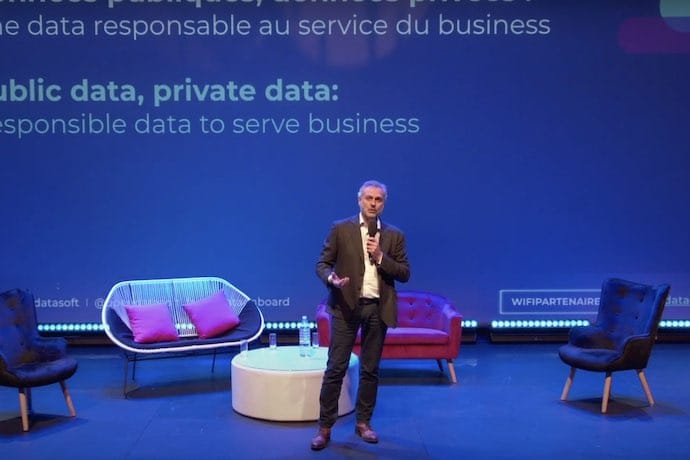 Open data is a fast-growing trend in banking. But what are the use cases, benefits and challenges? We asked open data pioneer Yves Tyrode of Groupe BPCE to explain more at our Data on Board conference.
Yves Tyrode is Chief Executive Officer in charge of Innovation, Data, Digital, and Payments at Groupe BPCE as well as the President of Oney Bank. When he arrived at Groupe BPCE, Tyrode was first tasked with the group's digital transformation and then later with its data transformation.
Groupe BPCE is the second-largest banking group in France, active in retail banking and insurance through its two major banking networks, Banque Populaire and Caisse d'Epargne.
Yves Tyrode's journey with Opendatasoft began ten years ago at rail operator SNCF. At the time few enterprises were opening up their data, which gave him the chance to take part in the very first data strategies, identifying the obstacles and challenges to overcome. In retrospect, Tyrode believes that this early experience with open data was of pivotal importance as it gave him the opportunity to become a pioneer in the area..
We invited him to the Data on Board 2021 conference so he could share more about Groupe BPCE's open data initiatives. In this article, we've highlighted some of the key lessons from his keynote speech: Public data, private data: Responsible data serving business.
View the recording of Yves Tyrode's keynote here:
Copy to clipboard

Groupe BPCE: A data pioneer in its sector

Groupe BPCE launched its first open data portal in 2017, as part of its digital transformation strategy. The aim was to make it easier for customers, employees, and partners to access public data. It was the first French banking group to make its datasets available to the general public.

This pioneering move was not driven by any regulatory requirement or in response to any competitor activity. It was instead driven by an understanding of the benefits open data could provide.

Today, Groupe BPCE has 175 public datasets available free of charge to analysts, journalists, researchers, teachers, students, open data players, local communities, chambers of commerce, transport companies, start-ups, and employees.

Groupe BPCE is thus able to create value by making its public data available to everyone, moving the whole open data field forward. The initiative was welcomed by the community, and many experts recognized its long-term benefits.

The group's data teams also meet regularly with other players in the open data ecosystem and actively participate in meetups to discuss issues and build original models that create value.

People had their doubts about opening up data in the banking sector. But we did it, and now we have the perspective to see that our approach is working very well.
Copy to clipboard

What use cases exist in the banking sector?

Groupe BPCE has implemented a number of projects to share its information as open data. During his keynote, Yves Tyrode focused on two particularly successful use cases: 
Creating a tourism ecosystem using payment data from foreign visitors
With all the payment data available to Groupe BPCE, we have the ability to measure credit card spending by foreign tourists, including understanding the number and amount of their transactions, broken down by their country of origin and where they were visiting.
Groupe BPCE has completely anonymized this data so that it can be used as open data by France's regional departments. This gives them deep insights into their visitors and helps them set the strategy for attracting future tourists.
With anonymized payment data, we have information that departments find extremely useful. We have been doing this for several years now, and the departments find it very helpful for their tourism strategy.
Posting the group's job openings in real-time through open data
This second example of how we're using open data has a direct benefit for the organization. We're using open data to post all Groupe BPCE job openings, with automatic updates four times a day, in formats that anyone can access and easily reuse from a simple spreadsheet or API.
Groupe BPCE is the first banking group in France to do this, and it allows all stakeholders to reuse data and filter job searches by location, city, employment sector, job type, and more.
This way, Groupe BPCE benefits from a reliable, sustainable solution for posting its job openings, while also attracting higher quality candidates. Today, companies must be able to leverage the right resources to attract digital-first, data literate talent.
People who work in digital, data, or payments are highly sensitive to this kind of approach, and using open data gives us top-notch candidates.
Copy to clipboard

What lessons have we learned?

Above all, Yves Tyrode explains that applying business expertise is essential if organizations are to highlight impactful data projects that deliver high added value.

When we talk about data, there are ultimately two circles: a vicious circle and a virtuous circle. The vicious circle is when experts talk to experts. This does not generate new use cases and therefore offers no benefits to end-users, with no real business model. The virtuous circle is when you have experts who focus on users. They develop new uses that will generate business.

Drawing on his experience in the field of data, Tyrode provides three takeaways for a successful enterprise data sharing strategy:  
Cultivate high quality data
Groupe BPCE invests heavily in the quality of its data.
Banks have billions of data points to work with. If the data is wrong, there is a significant ripple effect throughout the organization. For example, data allows us to calculate the capital that the bank needs to put in reserve. If your data is wrong, the amount you put in as capital will simply be wrong.
Create progress through open data
The second crucial point when setting up data projects is that opening up data to the outside world creates additional value.
When you share your data with the outside, it opens a world of possibilities, not to mention a world of applications and uses. And we accomplish so much more when we work with others, compared to when we work only with our internal developers, as good as they may be.
Tyrode recalls the difficulties experienced when Groupe BPCE was just starting to open up its data. "Opening APIs in an information system is extremely complicated because IT departments are afraid to open their system, particularly due to cybercrime, which is a very real concern. Openness is necessary, but it must be done in a way that protects customers and data alike."
Focus on the benefits to end users
The last point Tyrode raised is the importance of always thinking about end-users when setting up data projects.
In the years to come, we will all have a role to play in making data widely available and improving people's lives, in all areas. We cannot live in a world in which data is omnipresent without training, explaining, or ensuring that end consumers and company employees understand the challenges of data.
Articles on the same topic :
---
6 predictions for better data management in 2023
What will 2023 bring for those of us working in the world of data? What are the key trends people need to be aware of? We've collected the opinions and predictions of a range of experts, including Forrester, Gartner, Microsoft and McKinsey, and have shared them below in our blog.
6 predictions for better data management in 2023
What will 2023 bring for those of us working in the world of data? What are the key trends people need to be aware of? We've collected the opinions and predictions of a range of experts, including Forrester, Gartner, Microsoft and McKinsey, and have shared them below in our blog.