Public Sector
Ebook: Creating cost-effective smart communities with open data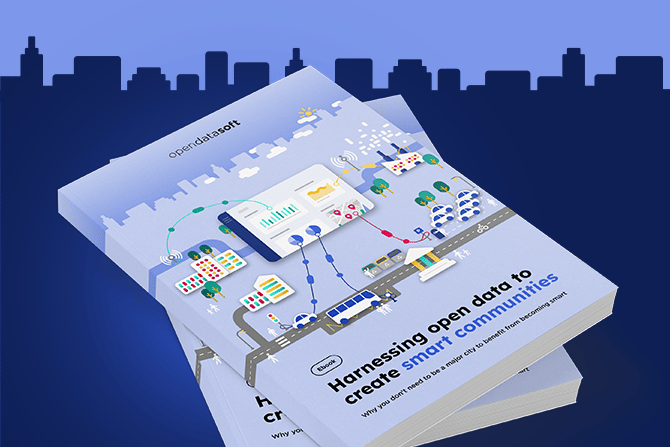 In an increasingly urban world, there's a real need for municipalities to become smarter. They have to become more efficient, innovative, sustainable, and responsive to the needs of stakeholders. Based on our new smart city ebook, this blog explains how open data fuels smart communities, providing in-depth use cases and strategies for success.
Residents and businesses are all demanding more from the cities and communities they live and work in. They want services designed around their specific requirements, greater transparency, and commitments to become more digital and sustainable.
Embracing technology and open data enables cities to deliver on these needs, while boosting efficiency and attracting new businesses and residents to grow local communities. However, in the past creating these data-driven smart cities required investment and skills that only top-tier municipalities had access to.
Can smaller cities become truly smart while still operating cost-effectively? The answer is yes, and to support municipalities as they become smarter we've created a focused ebook. This includes lessons, best practice, expert guidance, and use cases from across North America and beyond.
The guide explains the key role of open data in building smart cities, backed up with practical ideas and ways that every community can become smarter, cost-effectively.
Discover our new ebook and learn all about:
the benefits of building a smart city
the challenges to smart city success
how to build an effective smart city, whatever your size
examples of use cases from Opendatasoft customers including Morrisville, Cary, Jersey City, Kingston, Bristol, Southern Grampians, and Western Parkland
best practice advice on harnessing open data to create smart communities from a range of experts including Denodo, Siradel, Peclet Technology, 01Gov, Sciamlab and Ecomesure.
Copy to clipboard

The challenges to smart city and open data success

Municipalities understand the benefits that becoming a smart city provides, and the key role of open data in their projects. They see how it can make them a more attractive place to live and work, improve the local environment and make the lives of their citizens and businesses easier.

However, turning strategy into reality can be challenging, particularly for smaller municipalities. They need to overcome obstacles around:
Putting the right infrastructure in place
Creating an open, data-driven culture
Engaging citizens and driving usage of smart services
Ensuring concerns around confidentiality, data security, and compliance
How can you overcome these challenges and use open data to power a smarter community? Download our ebook to find out.
Copy to clipboard

Ten steps to maximize smart city success

Smart city success is about much more than technology or process – it is a long-term project that needs to involve the entire community. Maximize your impact by following these 10 steps to becoming a smart municipality using open data:
Involve the community, listening to their ideas and acting on their requirements
Get leadership buy-in from councilors by demonstrating the benefits for their roles
Build a strong technology infrastructure to underpin your smart city projects
Share your data in multiple ways and make it easy and seamless for everyone to access
Communicate success and address concerns citizens may have around privacy and security
Bring your data to life for non-experts through compelling visualizations and data stories
Create an internal data culture, involving all staff in your smart city program
Be open and share your data as widely as possible to enable innovation
Take a step-by-step approach, rather than trying to do everything at once
Learn from your peers, exchanging information and ideas to drive success
Copy to clipboard

Benefits and use cases

Data has the power to help municipalities become truly smart, benefiting themselves, their residents, and other stakeholders in multiple ways:
Delivering a better experience to citizens through information sharing and greater use of digital technologies
Increasing productivity and cost savings by automating processes and optimizing operations.
Enhancing collaboration through internal and external data sharing
Improving transparency, by providing citizens with information on progress against KPIs, budgets and new services
Building resilience to tackle challenges such as potential flooding, air pollution, or health-related issues
Attracting and retaining residents and businesses by providing services and experiences tailored to their requirements
Meeting the diverse needs of stakeholders, including businesses, tourists, mobility players, researchers and startups
Read our ebook to learn from a range of successful smart cities, including Morrisville, Cary, Jersey City, Kingston, Bristol, Southern Grampians, and Western Parkland.
Unleash the power of open data and build a smarter community by downloading our ebook today.
Articles on the same topic :
---