Data services
Schneider Electric: Learning from an expert on increasing value from data in the energy sector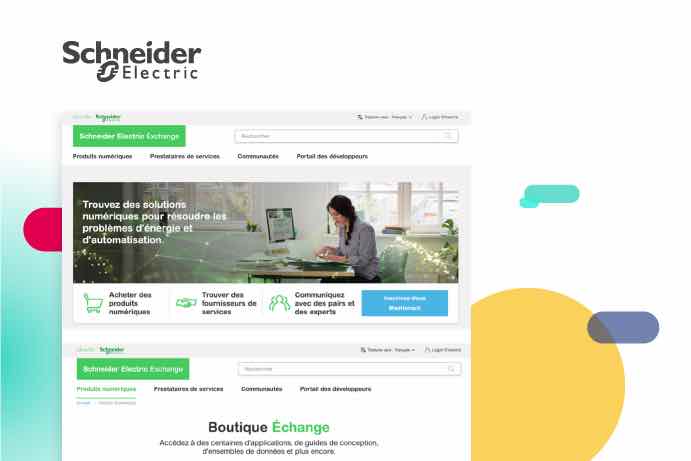 Learn more about how Schneider Electric created its Exchange platform: a marketplace of data services to enable collaboration and networking between players in the energy sector.
Facing key challenges around digitization and decarbonization of the energy sector while looking to remaining competitive, Schneider Electric focused on harnessing its data and turn it into value. As part of this it implemented solutions to ensure its data was easy to understand and then looked to share it internally with employees as well as externally with partners in the energy ecosystem.
To achieve its goals, Schneider Electric launched the Exchange platform: a marketplace of data services for collaboration and networking between players in the energy sector.
Copy to clipboard

Schneider Electric: A Pioneer in the Creation of Data Services

Schneider Electric is a growing technology company that provides digital energy and automation solutions for efficiency and sustainability. It brings together more than 130,000 employees from approximately 100 countries and supports customers in four growth markets: construction, data centers, manufacturing and infrastructure.

Schneider Electric's goal is to optimize the use of energy and resources and offer its customers solutions for meeting their challenges around energy efficiency and sustainable development.
An Innovative Approach through Data and AI
Schneider Electric currently faces two major transformations. It needs to become more digital while operating in an energy sector that is rapidly decarbonizing. To respond to these changes, it has chosen to make data a key business asset.
To achieve this the company has implemented multiple programs, including creating a dedicated AI hub to develop integrations that add greater efficiency to energy usage and industrial processes.
At the same time, Schneider Electric it has built a Data Factory project which brings together:
Data Library – a data project aimed at all employees that looks to increase efficiency and internal information sharing
Exchange – a marketplace of data services to optimize its current digital offerings and to enhance the data from these services. The objective: is to transform raw data into insights and offer additional services to partners.
Learn more about Schneider Electric's Data as a Service (DaaS) marketplace in the its success story >
Copy to clipboard

Exchange: A Marketplace for Schneider Electric's Data Services

To industrialize data use, create new services and educate its ecosystem, Schneider Electric designed the Exchange platform, a data services marketplace which brings together:
a wide variety of resources, including APIs, analytics and datasets to improve digital offerings
digital tools and expertise to adapt solutions and accelerate their marketing
On the platform, partners can also share ideas and concepts through a powerful collaborative cloud platform and access a network of solution providers in the energy sector.
More than 195 datasets are now published on the platform, which has more than 541 users. It's a true value-creating lever that has enabled us to set up numerous data services, and its use continues to grow.
Data Factory Program Lead, Schneider Electric
Copy to clipboard

The Schneider Electric Data Solutions Ecosystem

Implementation of the Data Factory is based on three key technology partnerships: Microsoft Azure, Databricks and Opendatasoft.

Microsoft Azure allows us to orchestrate our data transformation activities, Databricks is central for collaboration around the data, and Opendatasoft allows us to create our Data as a Service models with a data sharing platform, and to enhance them and make them available internally
Data Factory Program Lead, Schneider Electric
This data solutions ecosystem allows Schneider Electric to very quickly supply the Exchange platform with data and to accelerate their overall data projects.
The Databricks and Opendatasoft collaboration adds even more value to the catalog of data services that's already available to Schneider Electric. This makes it possible to offer pre-aggregated datasets to customers, so they can easily create and follow their own dashboards.
Senior Manager Delivery, Services & Training, Databricks
Opendatasoft: The Foundation of Schneider Electric's Data Experiences
To feed the marketplace and share Internet of Things (IoT) data with partners and customers, Schneider Electric relies heavily on standardized APIs enriched with reference documentation from the Opendatasoft platform.
Additionally, the robust architecture of the Opendatasoft platform allows Schneider Electric's customers and partners to readily retrieve large volumes of ready-to-use data.
Learn more on the collaboration between Opendatasoft and Schneider Electric by downloading our Success Story.
Copy to clipboard

Implementing a Data Service: Best Practices

Herveig Lecuyer outline key best practices for setting up a Data as a Service offering in order to create value for the organization.
Promote an Internal Data Culture Through Sharing and Training
Schneider Electric first launched the Data Library, a storage platform for employees, before sharing its data externally.
Herveig Lecuyer emphasizes the importance of this first step:
With the Data Library, employees can access datasets, and very easily share them. We've managed to develop an internal culture which avoids silos by making data available to everyone and encouraging its reuse.
Data Factory Program Lead, Schneider Electric
This approach has both created value internally and developed new uses for data. By comparing a range of data sets from different departments Schneider Electric is now able to identify new opportunities for innovation and to improve day-to-day employee efficiency.
Encouraging Partners to Use the Exchange Platform
Schneider Electric has focused on making it simple to reuse data on the Exchange platform. Data is easily accessible through asset catalogs, while the "Facility Expert KPI" option allows any partner to access the API's technical documentation.
The documentation work around the data is key to allowing better reuse and encouraging the ecosystem to engage in the process.
Interoperability: A Key Element of a Data as a Service Offering
A central part of efficient data management is enabling interoperability with other platforms. Opendatasoft makes it possible to manage this at all stages of the data experience:
upstream in order to connect to the ecosystem's other data solutions
downstream in order to allow the data to be shared at any time through APIs, either in the form of raw data for experts or via applications.
Would you like to learn more about this pioneering Data as a Service project be inspired by Schneider Electric's work? Find more information in our Success Story.
---