Public Sector
How Smart City Tech and Open Data Can Help U.S. Mayors Uphold the Paris Climate Accord (Part 1)
This is the first of a series of three blog posts about how smart city tech and open data can help U.S. mayors uphold Paris Climate Accord.
"We're getting out." With those words, President Donald Trump announced on June 1, 2017 that the United States would withdraw from the Paris climate accord. The response from U.S. mayors was immediate: "the world cannot wait–and neither will we."
The members of Climate Mayors issued a statement that they were determined to not only uphold, but intensify, their efforts to combat climate change:
"As 331 U.S. Mayors representing 65 million Americans, we will adopt, honor, and uphold the commitments to the goals enshrined in the Paris Agreement. We will intensify efforts to meet each of our cities' current climate goals, push for new action to meet the 1.5 degrees Celsius target, and work together to create a 21st century clean energy economy."
The affirmation has since grown, with over 1200 governors, business leaders, investors, and universities joining the mayors in signing an official "We're Still In" declaration. US mayors have also joined forces with their counterparts around the globe, including coalitions like the Global Covenant of Mayors for Climate & Energy, which represents over 7400 cities worldwide committed to combatting climate change.
Copy to clipboard

Cities and Climate Change: Uniquely Responsible, Uniquely Vulnerable

Mayors everywhere have a unique role in the effort to limit greenhouse gas (GHG) emissions while responding effectively to the impacts of a changing climate. Cities account for an overwhelming 70% of GHG emissions even though they only occupy 2% of the world's land surface. At the same time, cities are uniquely vulnerable to the impacts of a changing climate. Over 90% of cities are coastal, exposing them to risks from rising sea levels and extreme storms. In addition, urban environments intensify the effects of heat waves and are centers of harmful air pollution which is interlinked with climate change.

And, because of cities' density, a significant climate-related event in an urban region can impact a devastating number of lives. The economic toll can be devastating as well as cities are the world's commerce centers (in the U.S., cities account for 90% of total economic output and 85% of jobs).
Copy to clipboard

Cities & Climate Change: Uniquely Positioned for Positive Impact

However, this same density means cities are also uniquely positioned to have a big impact on the fight against climate change. Though most certainly not without challenges (to be covered in the Part 2), successful urban carbon reduction initiatives can produce the fastest and most dramatic reductions in total global greenhouse emissions. And, city adaptation strategies can play an outsized role in mitigating the human, cultural and economic impacts of climate change.

The mayors of U.S. cities large and small, from New York City (population 8.5 million) to Pleasantville New Jersey (population 21,000), know this. They are among the mayors who are working in concert with the US Conference of Mayors and the Center for Climate and Energy Solutions to shape a nationwide climate change strategy in the absence of federal leadership.
"If the federal government refuses to act or is just paralyzed, the cities themselves, through their mayors, are going to create a new national policy by the accumulation of our individual efforts," stated U.S. Conference of Mayors President New Orleans Mayor Mitch Landrieu at the group's 85th Annual Meeting.
The mayors are confident that they can help the country meet its Paris Agreement objectives through knowledge sharing and through joint planning, program development and procurement efforts. That confidence is not unwarranted as cities have already demonstrated successes in emissions reductions and adaptation planning that can be shared, improved, and replicated.
Some of these successes can be attributed to federal initiatives on infrastructure, renewable energy investments and emissions-related regulation, and states can yet play a large role (see the recent Governing article on the subject), but progress has also been made through local initiatives. These initiatives often involve information and communication technology – 'smart city' technology – enabled and enhanced by open data (publication of machine-readable data with restrictions on reuse).
Copy to clipboard

Addressing Climate Change with Smart City Tech & Open Data

Smart city strategies use technology and data to make cities more efficient, livable and sustainable. One form this technology increasingly takes is the deployment of sensor and communication networks across urban infrastructures. Sensors are being attached to everything from garbage bins to sewer lines to utility meters to roadways in an 'Internet of Things' to deliver real-time data on operations and conditions. This data is being used to optimize – and sometimes automate – current city services, and to feed analytics that can guide long-range service and infrastructure planning.

Cities and their partners are increasingly sharing this sensor data with businesses and the public. This open data is being used to raise public awareness, to provide reference data for researchers, to enable civic technology (often in the form of mobile applications for residents and visitors), and to help engage a broad range of stakeholders in the planning and implementation of mitigation and adaption efforts.

In addition to sharing their own (or their contractors') open data, cities and their partners also rely on data from sources like national and international scientific organizations, state and federal agencies, private companies and even residents (e.g., GPS data from smartphones) to support their climate change initiatives.
"open data can be a platform to power the Internet of Things, because it is data that is available, frequently refreshed, relevant and useful, and available through an API [Application Programming Interface]." City of Chicago CIO Brenna Berman speaking at the Internet of Things (IoT) World Forum
In this post, we'll look at some specific case studies of municipalities successfully using smart city technology and open data to reduce GHG emissions from the building sector. In the next post, Part 2, we'll share case studies of reductions from transportation and water treatment, along with some of the challenges faced in using smart tech and open data to reduce emissions. Part 3 will focus on the use smart city tech and open data to support adaptation (or resilience) strategies.
Copy to clipboard

Case studies: Using Smart city Technology and Open Data to Reduce Building Emissions

In cities, two sectors are responsible for the majority of urban emissions: Buildings and Transportation. Nationwide, buildings and transportation account for about 40% each of urban GHG emissions. In cities, this balance tilts heavily toward buildings (~70/20 split) in dense cities with well-developed public transportation systems. Other common emission sources include from water and wastewater treatment, solid waste management and recycling, industrial processes, and landfills. Below are some examples from the building sector.
Copy to clipboard

Buildings
Case Study: Chicago
The Project
In 2012, Chicago launched the Retrofit Chicago Energy Challenge to reduce GHG emissions from buildings, which the city estimates account for 70% of its total GHG emissions. Developed in partnership with diverse public, nonprofit and private stakeholders, the goal of the project – which to date includes 76 commercial buildings covering 51.3 million square feet – is to help the city meet its overall goal of reducing emissions by 20% by 2020.
Some building retrofits and upgrades have been low/no-tech (e.g. wall and window insulation), but many improvements have been made through smart technology, including:
Smart LED lighting systems (including occupancy sensors)
Digital thermostat systems
Smart utility meters
Building automation systems for equipment scheduling
Digital HVAC control systems
Dashboards for site energy use to raise tenant/occupant awareness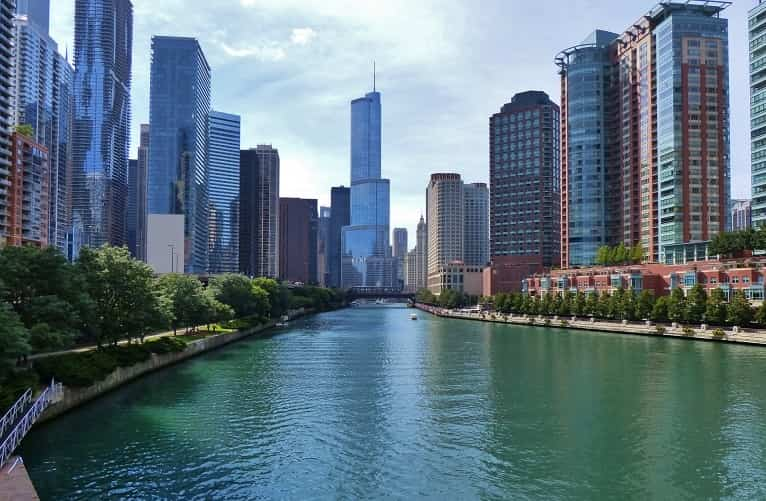 The Results
By July 2016, the then-62 participating buildings had achieved an 11.7% reduction in energy use (weather-normalized) from baselines, representing annual savings of 90 million kWh of electricity and 70,000 tons of GHG emissions, with financial savings estimated at $6.4 million per year. It is an initiative that has delivered over 80 percent of Chicago's total emissions reductions of 7% from 2010-2015. (See the Chicago case study in the C40 Cities report "Urban Efficiency II: Seven Innovative City Programmes for Existing Building Energy Efficiency.")
The Role of open data
The baseline data for the program was developed through a collaborative data sharing effort by property owners and local energy utilities, and the smart city tech upgrades have made gathering benchmark performance data far easier and more accurate. In addition, this data is being shared as open data at a city, national and international level, helping others learn from Chicago's efforts and contributing to a greater understanding of the role of building emissions in the fight against climate change. For example, the data is being measured and reported in accordance with the Global Protocol for Community-scale GHG Emission Inventories (GPC), and shared through a World GPC Map that features standardized reporting of GHG emissions by scope and sector for cities around the globe.
Chicago is also contributing its data to CDP (formerly known as the Carbon Disclosure Project) annual emissions reports from cities, states, investors, and companies. CDP makes this climate and energy-use information available through reports and an online data repository. CDP is also collaborating with the Institute for Market Transformation (IMT) to close vital information gaps through open access to data from voluntary and mandatory energy efficiency initiatives.
To this end, IMT collaborated with CDP last year via the City Energy Project (CEP) to pilot a reporting platform for building energy performance in 10 CEP cities, including Chicago. Now, participating cities are working with CEP develop applications with the data, and to share it through open data portals, visualization tools, and annual benchmarking reports. (See http://www.imt.org/news/the-current/transparency-is-a-key-ingredient-to-city-climate-action.)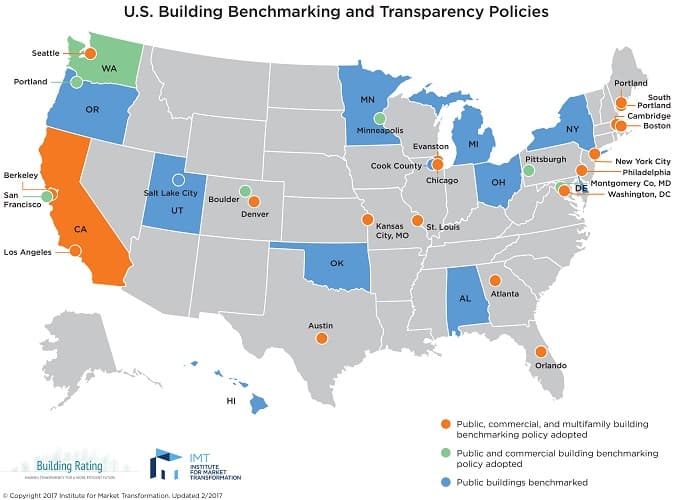 Copy to clipboard

Case Study: New York City
The Project
New York City's GHG reduction goals are very ambitious: Mayor Bill de Blasio has set the target at an 80% reduction from 2005 levels by 2050. To help meet this goal, he set an interim objective of a 30% reduction in building-based emissions – which account for about ¾ of the city's emissions – by 2025.
One of the programs established to meet this goal is the NYC Carbon Challenge. It was established in 2007 and seeks pledges from building owners and tenants to voluntarily reduce their emissions by 30% over 10 years. Ten participants have already met that 30% goal, and have upped their objective to a 50% reduction by 2025. One of those who reached their target early was global investment firm BlackRock.  Blackrock set out to reduce energy consumption and emissions at three buildings it leases in midtown Manhattan (580,000 square feet of office space). Working with CodeGreen Solutions, BlackRock preformed energy efficiency retrofits, improved space utilization, and coordinated upgrades in tenant and landlord shared building systems. Measures taken included:
Using data server virtualization to reduce electricity consumption in their data center
Retrofitting lighting fixtures with LED technology and occupancy-based sensors
Installing75 new smart electricity sub-meters
Deploying control systems that allow lighting, plug loads, and HVAC systems to be monitored and managed in near real-time
Retrofitting air handling units with variable frequency drive (VFD) enabled, premium efficiency motors
Using space planning to increase occupant density
The Results
BlackRock has achieved its Carbon Challenge goal in just five years, reducing GHG emissions per full-time employee by more than 36%. Their greatest reduction in energy use came from their data virtualization project, which reduced data center emissions by 50%. Their lighting upgrade reduced electricity consumption by over 950,000 kiloWatt hours (kWh) (for an estimated $180,000 in annual savings). And, their VFD-enabled air handling units have reduced consumption by 850,000 kWh, and yielded an estimated $160,000 in annual savings.
BlackRock will be using the data streams from its new sub-meters to plan, implement and evaluate additional energy conservation measures to meet its now augmented goal of a 50% per-employee reduction in GHG emissions.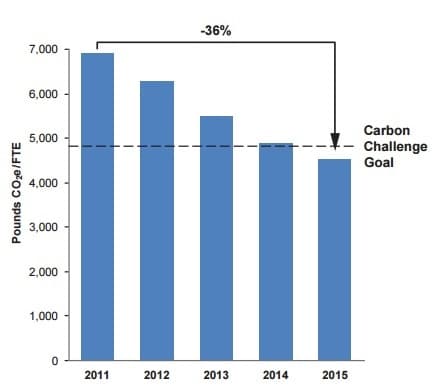 The Role of open data
Blackrock relied on open data to develop its benchmarks and reduction plans, including data from the New York City Energy and Water Performance Map. It's a project that publishes citywide energy benchmarking data for individual buildings and enables comparative analysis by building type, location, size, and year built. It also enables building owners to track their progress year over year to help in energy efficiency planning
To build the Map, NYC has required building owners (50,000 sq ft-plus) to enter their annual energy and water use in the U.S. Environmental Protection Agency's online to ENERGY STAR Portfolio Manager® tool. The data gathered through Blackrock's new smart and connected systems will be shared to the benefit of others through the EPA, the City's Energy and Water Performance Map, NYC Private Sector Benchmarking Reports, and NYC's open data portal.
These open data resources are being used by building owners to reduce energy consumption and save money, and by local groups like the Buildings Technical Working Group, NYC Retrofit Accelerator, and Community Retrofit NYC for policy development. The data is also rolled up through the City and the EPA to provide state and national-level data, and it is available as well to international groups like C40 Cities.
Beginning in 2018, the owners of mid-size buildings between 25,000 and 50,000 sq. ft. will be required to benchmark GHG emissions as well.
Copy to clipboard

Next

In Part 2 of this series, we'll look at some case studies of cities using smart tech and open data to reduce GHG emissions from transportation and water treatment. We'll also look at a few challenges initiatives like these face, including financing, security, and some gaps in local-level open data and real-time sensor data access.

Articles on the same topic :
---