Energy & Utilities
UK Power Networks – building an open data portal to drive decarbonization of the energy sector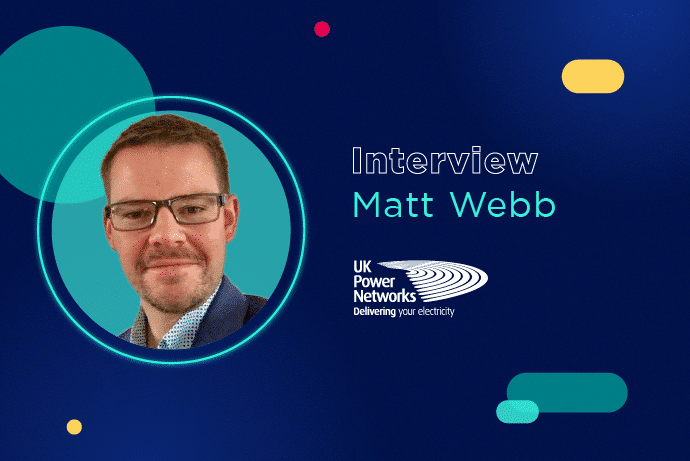 The energy sector is at the forefront of the move to cutting emissions and limiting global warming. We interviewed Matt Webb of electricity distribution network and system operator UK Power Networks to learn how open data is driving transformation and building a Net Zero future.
Across the energy sector the drive towards Net Zero brings increased complexity and a need for greater collaboration between increasingly diverse stakeholders. Sharing data is therefore an essential part of successful decarbonization and the adoption of low carbon technologies.
UK Power Networks is the UK's largest distribution network and system operator, responsible for delivering electricity through its network to 8.3m homes and businesses across London, the East and South East of England. It is pioneering the sharing of open data in the UK energy sector, so we interviewed Matt Webb, Head of Enterprise Data Management, to find out more.
Copy to clipboard

What was the reason for beginning your open data strategy?

The energy sector is undergoing massive transformation as we move towards Net Zero. This has a tremendous impact on our business model and to successfully manage this transition we know we must become a much more digital organization. Data has to be presumed open, standardized and visible.

Our open data program is therefore part of our broader digital strategy – ensuring we have a better understanding of our changing network and being able to share this data across our ecosystem in a simple, straightforward way is essential to both optimizing how we manage the network and ensuring we maximize use of low carbon technologies, such as wind and solar farms and battery storage.

There is also a regulatory dimension. The Energy Data Taskforce's Strategy for a Modern Digitalised Energy System, was released in June 2019 and comes into effect in 2023. This sets out five key recommendations to modernize the UK's energy system and drive it towards a Net Zero carbon future. Data is at the heart of this – the report states that, "In the power sector, data is the key to unlocking system and consumer benefits and managing the fast-approaching challenges of flexibility, resilience and costs in the most efficient way."

We wanted to be at the forefront of embracing open data and therefore helping the whole sector to benefit by providing an open data portal that provides a single point of access for our network and asset data to facilitate this transition. Our recently published Open Data Principles articulate our level of ambition and approach in this respect.
Copy to clipboard

What were your objectives for the program?

Essentially, we wanted to build an open community around our data, sharing it seamlessly with our stakeholders and maximizing re-use and interoperability, all while ensuring the highest levels of security and privacy. Our portal and datasets had to be easy for stakeholders to access and benefit from, whatever their level of technical or data skills.

This is very much an ongoing activity, one which needs to develop and evolve as our stakeholder requirements change and evolve. We want to accelerate the UK energy sector's understanding of open data to benefit us all as an industry.
Copy to clipboard

When it comes to data who are your stakeholders and how are you meeting their needs?

We have an incredibly diverse range of stakeholders – all of whom have very different needs. They include:
Local authorities
Housing developers
Renewable energy generators
Flexibility providers
The wider energy sector
Electric vehicle charge point installers and those running EV fleets
Utility providers
Consumers
Researchers and academics
From the beginning we knew that the portal would only be used if we provided the information that stakeholders wanted, in ways that met their needs. We wanted to move beyond a transactional relationship to build a community. So, we ran multiple events to understand their requirements, with nearly 500 attendees giving their feedback and many joining the beta program for the portal. This helped shape the thinking behind the datasets we prioritized and the ways it could be accessed.
Broadly, our data falls into three themes: facilitating Net Zero, network data, and strategy and innovation. We've collected existing data, added new datasets in response to stakeholder requests and proactively created datasets which we believe can deliver value. It's a constant process and we are continually releasing new datasets.
While stakeholders are very diverse, they do share some common features – they are interested in what network assets we have, where they are and the available capacity. We're continuing to work closely with them – for example, we just held an event for local government stakeholders to better understand their particular needs and how they are evolving.
All of our stakeholders have different levels of technical skills when it comes to data. That's where the flexibility of Opendatasoft really helps – we can easily provide data experiences in multiple ways, from maps and graphics to downloads and via APIs for more advanced users.
Copy to clipboard

How is working with Opendatasoft?

ODS has been superb throughout the project, delivering what they promised and going above and beyond in many instances. What stands out is the desire from the whole ODS team to support us in navigating not just the use of its platform but the wider complexities and challenges of openly publishing data.

As well as being able to expediently implement an open data platform that met and surpassed our requirements within a very short space of time, we are also benefitting from the extensive knowledge and experience the team has of not just their software solution, but also the wider open data ecosystem. Their guidance and support has been invaluable during the founding stages of our Open Data programme.

Working with ODS has also provided access to an established community that we can engage and collaborate with, alongside continuing to benefit from ODS's significant experience of delivering projects like our own.

Watch more on how ODS and UKPN have worked together in our video interview.
Copy to clipboard

What results have you seen so far from your portal?

We now have an open data portal that features one of the UK's biggest sets of information about electricity infrastructure. Most importantly, we have an active, growing community of users who are benefiting from our data, all helping to create a more flexible, resilient, and greener transmission network. Over 5,000 people have accessed the portal, and we've seen over 625,000 API calls since it went fully live in October 2021.

The portal is key to our digital strategy and being able to openly innovate with our stakeholder community. For example, it contains our Distribution Future Energy Scenarios (DFES), which shows four separate 'scenario worlds' modelled to 2050 to provide our region's most detailed ever picture of decentralization, digitalization and decarbonization. This allows stakeholders to plan better and contribute to the Net Zero future.

All in all, we've demonstrated to the UK energy sector what is possible with open data – with regulations coming in next year, we're sharing our best practice to ensure the whole industry is able to benefit from the creation of a more digital, resilient and greener ecosystem moving forward.

To learn more download the full UKPN/ODS case study.

Articles on the same topic :
---