Data Trends
Data in 2031: Making data a service for everyone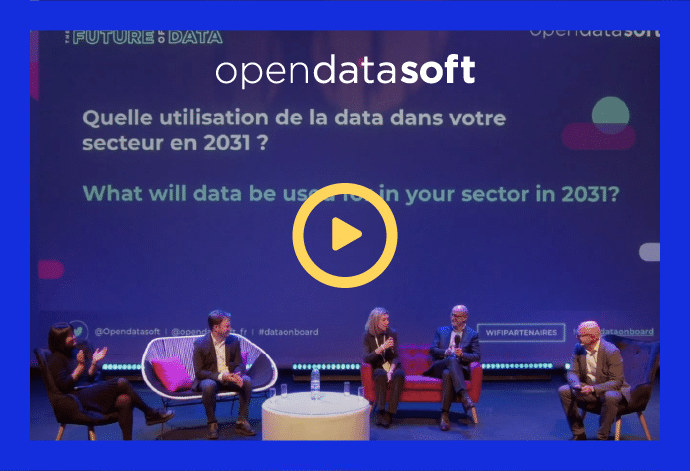 We recently looked into the data future with Engie, IQVIA, Altares, and SNCF Réseau at our Data on Board conference. Together, we time-traveled to the year 2031, looking at when data is truly accessible to all.
Data is now central to our economies, with enormous volumes of information created by all types of organizations. The real challenge is making this data fully accessible and understandable so that it can be reused more easily. This allows everyone to utilize data in the same way that they treat any other type of content in order to improve their personal and professional lives.
We recently looked into the data future with Engie, IQVIA, Altares, and SNCF Réseau at our Data on Board conference. Together, we time-traveled to the year 2031, looking at when data is truly accessible to all.
Copy to clipboard

IQVIA: Augmented data for healthcare

At the crossroads of healthcare and emerging technologies, IQVIA has been an expert in data and consulting solutions for the healthcare industry for over 60 years, across more than 140 countries. Our guest Flore Coudy, Marketing Director at IQVIA France, looked at how data would be used in healthcare sector in 10 years time.
Transforming data into "augmented" information with high added value
IQVIA relies on its proprietary databases, expertise, and analysis tools to provide data services and consulting solutions to those in the healthcare industry.
Flore Coudy believes that in 10 years, it will no longer be a question of marketing data—but added value information derived from that data:
"In 10 years, we will be providing immediate answers to our customers, not just data, strictly speaking. We will provide relevant information, giving users concrete answers to the questions they ask, without having to go through data, analysis, processing, and collection."
Difficulties in accessing data and drawing insights do not allow us to make data fully accessible to everyone today. Flore Coudy shared a real-world example faced by pharmaceutical company staff:
"When an employee in one of our pharmaceutical customers receives information about their market share, they must work out for themselves what they need to do to improve their performance. In 10 years time, these managers will be able to receive operational recommendations directly from IQVIA."
This will allow those in healthcare to have access to directly actionable information, for example covering:
The best areas for investment (e.g., advertising on social media)
Which resources to implemented (e.g., tools and hiring)
The optimal opportunities for opportunities (e.g., pharmacies where a particular product line will sell best)
Adapting to future regulatory challenges
IQVIA is a leader in the marketing of health data. However, the company is preparing for a total ban on selling this data in the future.
Flore Coudy explained that IQVIA is planning an innovative model capable of anticipating regulatory change through two approaches to data sharing:
Open data sharing of healthcare information to facilitate access and increase transparency. The pandemic was the trigger for taking this broader approach to data openness, with tangible benefits for the company's image and reputation.
The monetization of enhanced and processed data through data services, designed by the IQVIA team to transform this data into recommendations and decision-support tools.
Flore Coudy therefore believes that potential regulation in the healthcare sector should not be seen as a constraint, but as an opportunity to go much further in the processing of data and the implementation of new methodologies.
Through this approach, IQVIA is able to identify new, innovative solutions to enhance the value of data in the health sector, particularly through the use of anonymized data. This would make it possible to comply with data privacy and regulatory challenges around personal data.
Copy to clipboard

SNCF Réseau: A European knowledge base advancing rail mobility in the European Union

The SNCF Réseau Group is responsible for the management and maintenance of France's rail infrastructure. Nicolas Wurtz, Open Source Project Manager at SNCF Réseau, explained how data would be used in his sector in 2031.
Creating an open-source train traffic simulator for all of Europe
SNCF Réseau shares its data with all its employees to improve internal project management (e.g., servicing maps, operational analysis). Doing this makes it possible to innovate more quickly and encourages the implementation of new services that improve the performance of the rail network.
Nicolas Wurtz foresees that the project's completion will open up data in 10 years on a wider scale, by offering open-source train simulation software across all of Europe.
Everyone in the ecosystem (whether infrastructure managers and railway companies) will then be able to freely rely on this software, without having to request access to the underlying data in order to reuse it.
Gathering all the data needed to analyze train traffic from a multitude of different producers in just a decade will be a challenge however. Data sources will include trains, signals, routes, stations, switches, dynamic train acceleration data, and more.
When completed this process will result in a shared, reliable knowledge base for using railway data and improving train traffic on an ongoing basis.
Improving efficiency, helping with decision-making, and anticipating problems through open data
Creating this open data platform will allow for better traffic management of France's 15,000 trains through a global view of all signals in real-time.
The system will also offer significant flexibility, enabling new traffic to be added to the network at the last minute. It will even be possible to identify route problems immediately and correct them before it affects wider traffic.
"For me, a good tool is one you can forget about. My job is to make sure that the tools we develop are simple and intuitive for the people who run trains."
Open Source Projects Manager
Finally, the availability of open data creates opportunities for innovation and new uses within the SNCF Réseau Group. Through access to data employees will be more inclined to suggest new ideas, creating innovation based on user needs, going beyond any initial use cases that may have already been thought of.
Copy to clipboard

Engie: Achieving the energy transition

Engie is the third largest group in the global energy sector. It already shares a lot of open data information with the general public around how its assets generate, store, and transport electricity and gas within the European Union.

Caroline Flaissier, Senior Advisor Energy at Engie, looked into the future with us to consider how data will be used in the energy sector in 10 years time.
Continuing to support the energy transition
In the energy sector, data sharing runs alongside the needs of the energy transition, and will have a major impact on the future of the industry.
According to Caroline Flaissier, we can best understand which solutions to implement by looking at the behavioral data we have on customers, employees, and the wider ecosystem. However, data confidentiality is clearly an issue that may become an even greater constraint in the future.
Caroline Flaissier believes that it is crucial to challenge the existing models that have been created by those in the energy sector in order to make full use of behavioral data.
Additionally, it is only by industrializing data sharing on a global scale that we can create a new model for achieving the objectives of the energy transition.
Creating a model tailored to energy sectors challenges
According to Caroline, the success of energy companies in 2031 will be based on their ability to confidently admit previous data failures and willingness to start all over again. This is because advances in behavioral data analysis are often hampered by the existing structures of organizations, which naturally silos information.
"Once we have decided to work on behavior, the organization then asks us to report by business sector, consumption, revenue, and so on. Doing this is a backwards step returning us to older, out of date models, making it impossible to make serious progress on projects related to the energy transition."
Therefore, starting from scratch and creating new models will be the key to success, according to Caroline Flaissier. In addition, it will allow new types of people to come on board with data —people who have different training and who will have the skills to drive a data-based model for the energy transition.
Copy to clipboard

Altares: Creating new data-driven industrial models

A leader in business information, Altares collects, structures, analyzes, and enhances B2B data in order to make it "smart" and to facilitate better strategic and operational decision-making for companies. Luc Querton, CEO of Altares, shared his vision for 2031.
Providing quality service based on reliable and ethical data
Altares processes business data that covers different financial and legal areas, providing its customers with aggregated information that is crucial to their decision-making, production planning, and even overall survival. Luc Querton raised two fundamental issues that are essential in providing quality data services:
data credibility and reliability
the ethical integrity of decision-making algorithms
To meet these challenges, Altares has identified two main areas to focus on in the future:
Creating unique identifiers for data to guarantee its reliability, stability, and lifespan.
Submitting algorithms to tests to ensure their integrity, carried out by third-party certification bodies. These bodies can ensure that Altares' algorithms meet any new regulations and are in line with its social and environmental responsibilities.
Building on existing know-how
Altares helps its customers to protect themselves against the financial risk of default, meet their regulatory and environmental compliance requirements, and maximize business development. To continue to serve its customers effectively, Altares faces two major challenges:
The scarcity of intellectual resources and the difficulty of training data scientists and developers who can help Altares implement new data-driven models more quickly.
Reluctance on the part of customers to accept decision recommendations provided by AI algorithms.
In the future, Luc Querton believes that the main focus should be on customer data and know-how, which will make it possible to develop cross-functional centers of expertise and build new industrial models, overcoming the challenges listed above.
"These new models can even be broken down by sector (such as energy or mobility) to provide highly precise expertise. This will also allow us to enter new markets internationally."
Luc Querton also suggested that future regulations will provide an opportunity to develop new metrics to promote internal mobility and make knowledge more accessible.
What are the challenges facing data and CSR?
Corporate social responsibility (CSR) is increasingly used to analyze organizational performance. Altares is therefore looking to adapt to the market by combining new CSR indicators with other more traditional metrics (such as default risk and capital movements) to offer a balanced view of the behavior of companies that goes beyond financial performance.
"All companies will produce a lot of CSR data very quickly, which will allow us to enhance our corpus and then provide 'generic identity cards' for companies."
Copy to clipboard

Conclusion

Making predictions about 2031 opens a window on the future of data in the energy, healthcare, information, and transportation sectors.

It underlines the changes that need to be made to deliver data democratization.
Currently, data sharing models are siloed in every single sector, and all our experts agreed that this needs to change. Data needs to be open, widely accessible and used by as many people as possible to unlock its full benefit. Data privacy is a central concern, but also provides an opportunity to transform existing models for the benefit of all.

As we move towards 2031, the benefits of data democratization will become clear, whatever sector organizations are operating in.

Articles on the same topic :
---
Interview with Stéphane Avronsart from SNCF Réseau
We sat down for a chat with Stéphane Avronsart, Head of Quality & Methods for the Project and Engineering Division at SNCF Réseau, to find out more about why the company decided to pursue a private data sharing initiative.
Interview with Stéphane Avronsart from SNCF Réseau
We sat down for a chat with Stéphane Avronsart, Head of Quality & Methods for the Project and Engineering Division at SNCF Réseau, to find out more about why the company decided to pursue a private data sharing initiative.