Product
Extending our all-in-one data experience platform to spread data democratization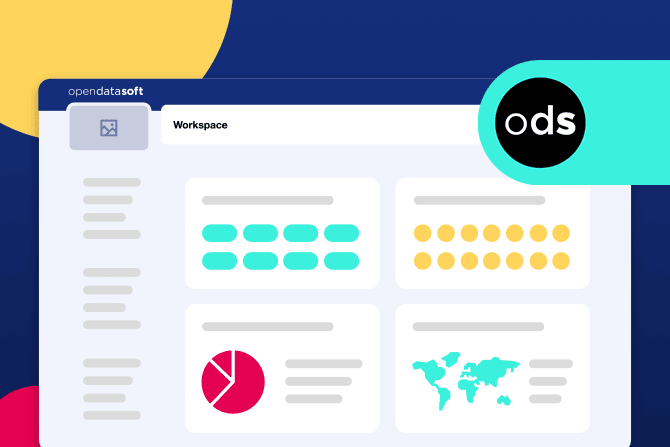 Opendatasoft's unique all-in-one data experience platform is continually being extended to help our clients turn their data into value. We explain key tech advances we've made in 2022 and look ahead to our development objectives for 2023.
At Opendatasoft we're on a mission to increase data democratization – making it simple and straightforward for everyone (whether an employee, consumer, citizen or partner) to access, understand, share, and use data in their daily lives.
As part of this we're continually extending our unique all-in-one data experience platform to ensure that data is at the heart of every organization, driving greater efficiency, better decision-making and improved transparency.
Over the course of 2022, we've invested heavily in our technology, focusing on four key areas – interoperability, APIs, robustness and making it easier to find and turn data into meaningful experiences.
Copy to clipboard

The importance of the data experience layer in the tech stack

Our goal at Opendatasoft is to help companies gain return on their investment in their technology stack. Despite these investments, data is not effectively used across the business.

Commonly data is centralized in expert tools rather than being available to all through easy-to-use solutions and compelling data visualizations. This does not unlock its full value.

To unleash its potential value, data must be available to all through interactive data portals. Opendatasoft is the essential technological building block for democratizing data within organizations.

Our platform allows you to deliver high-impact data experiences, through its ability to connect all your data, regardless of how it is created, to gather it in a single catalog, to make it easily searchable, to visualize it with a single click as data stories and dashboards, and to share it instantly through dedicated portals and apps, or via files and APIs, etc.
Copy to clipboard

How we've extended our data experience platform in 2022

As our customers do more with their data, sharing it across their internal and external ecosystems, their needs are changing when it comes to technology. By listening to their requirements through our Customer Success Managers and support teams we've been able to focus on four key areas over the course of the year:
Increase robustness
Greater connectivity and interoperability
Improved our APIs to ease data publishing automation tasks
Empower your team through greater autonomy
Increase robustness
Customers are now creating, collecting and sharing ever-increasing volumes of data, with more and more internal and external users. This year we've launched a number of customer projects with very high traffic, such as the CNAM portal which shows the prevalence of key medical conditions across France and the French Ministry of Finance's dataset on oil prices, which saw large spikes in usage during market volatility.
That's why we're investing heavily in creating a robust platform. This year we've achieved this in multiple ways:
Making it easier to deploy Opendatasoft on new cloud platforms as part of our goal to be present on all main cloud providers by 2025. This already allows us to serve the needs of our customers all over the world and enables them to operate their Opendatasoft platform on environments such as Amazon Web Services, Outscale and Oracle Cloud.
New Kubernetes-based architecture for our platform. This delivers greater robustness and scalability for the future. Through our truly elastic architecture we can automate scaling to meet growing client needs. We can also be more agile in how we develop and ship new features, cutting deployment times and accelerating value for customers.
Greater connectivity and interoperability
We already offer 80 connectors to leading storage applications, BI tools and business solutions. To ensure that data flows seamlessly across your ecosystem we're continually creating new connectors – including this year to Informatica, Denodo, Snowflake, Microsoft SharePoint and Google Drive, Azure Blob Storage and AWS S3.
We are also flexible to provide customers with the right connectivity to meet their specific needs. For example, we built a connector to allow US public sector clients to access external data from the U.S. Census Bureau and use it to enrich their own datasets.
This interoperability is vital to getting maximum value from your data investment, making sure the organization reuses the data from expert tools in business applications. Automating data flows enables easier sharing and processing of data, delivering real business benefits while ensuring compliance.
Improved our APIs to ease data publishing automation tasks
Our Explore APIs are central to how we expose data to applications which consume data. Through major improvements we've been able to implement the features required by the ODS Studio tool and made the API as close as possible to the SQL language, enhancing usability.
We have also invested heavily in our Management APIs to make sharing data from our platform easier. This translates into greater workflow automation and easier synchronization and management of data and metadata across the ecosystem.
Empower your team through greater autonomy
Data democratization means everyone has to be able to easily find relevant data and confidently reuse and share it. This is why we launched the no-code ODS Studio tool in early 2022. It allows all teams to create compelling data visualizations: 100% responsive data stories, charts, and reports quickly and intuitively, then organize them simply on a web page, and finally easily share them with colleagues, customers, and other stakeholders. The whole process takes minutes, allowing non-experts to create the visualizations they need without requiring support from data analysts. We have improved the Studio over the course of the year, adding features such as the ability to add multi-series graphs as well as map creation, with choropleth maps to be introduced shortly.
Copy to clipboard

Looking ahead to 2023: what are the next steps?

We're excited about the technology developments we have planned for our all-in-one platform in 2023 to create impactful data experiences that accelerate data usage. While we'll announce more details in due course, our strategy revolves around three key axes:
Reinforce interoperability to increase data value
The data experience layer is an essential part of every company's data stack. We'll be working to embed our solution more deeply in client tech ecosystems, improving ways of connecting to the platform, and putting in place mechanisms that allow clients to push data from Opendatasoft to other tools. This aims to democratize data both internally and when sharing with partners, spreading information from ODS to other tools. For example, it will make it easier to connect to data governance solutions, or to insert ODS dashboards and data visualizations into other tools.
Remove friction to rapidly create high-impact data experiences
We want to remove the technology barriers that inhibit broader use of data within organizations. Our Studio already simplifies the creation of visualizations by non-experts, and we're focused on new ways to automate the entire data lifecycle, from collection, processing and visualization, to sharing and reuse.
At the same time, we want to provide choice to our customers. In a world where information is constantly evolving, some of our customers are asking us to deploy maximum impact experiences for them as quickly as possible. Our in-house experts will be able to do this for them using our own tools, including our SDK and code library, as in the Fresh & Local project we did for the Ministry of Agriculture, Frais et local.
Help our clients to understand the use of their data and accelerate its impact
As data usage increases, managing the complexity of flows across multiple systems becomes more difficult. We already provide our customers with raw data to monitor their usage. However, this is often too "raw" to be easily usable. Therefore, we want to provide refined, actionable insights based on a combination of this raw data, and our knowledge of how the data is shaped before being published. This will help our customers build better data governance and optimize user engagement.
Over the course of 2023 we'll be making regular announcements around these three strategic axes, introducing new functionality to our all-in-one platform. In the meantime why not check out our recent blog that outlines some of the key features that our customers love or visit our changelog to get more details on the innovations we have shipped this year.
Articles on the same topic :
---