Data Trends
How reusing and sharing data creates value for organizations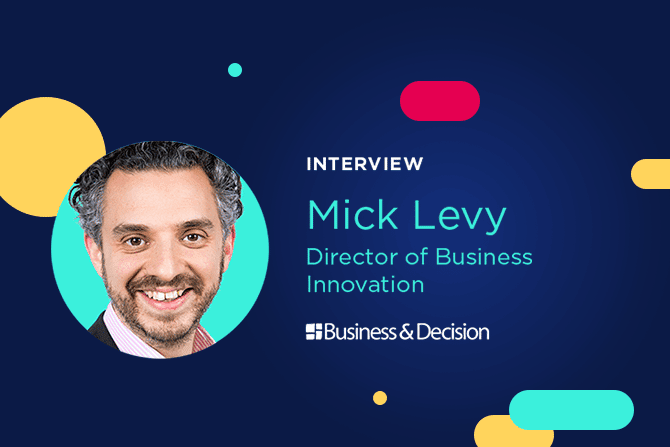 However, how data is used and how projects should be structured greatly varies between sectors. To understand how to deploy large-scale data projects that generate value, we interviewed Mick Levy, Director of Business Innovation at Business & Decision.
If handled correctly, data is an inexhaustible raw material that powers organizational success. Data-driven organizations use their data to drive better decision-making, increase operational efficiency, and improve products and services.
However, how data is used and how projects should be structured greatly varies between sectors. To understand how to deploy large-scale data projects that generate value, we interviewed Mick Levy, Director of Business Innovation at Business & Decision.
Mick Lévy is an expert in data and artificial intelligence, and is a keen observer of how these technologies impact business and society. A data specialist for 20 years, he advises companies on their digital strategies and supports them in their AI and data projects, working internationally across every sector. He is the author of "Get Your Data Out of the Fridge" published in February 2021 by Dunod Editions.
Copy to clipboard

As a data specialist with over 20 years of experience, what changes have you seen in terms of data use as organizations embrace digital transformation?

Over the last 20 years, I have witnessed a dazzling transformation in the role of data. Previously, it was just used "cold" for reporting purposes, and only the largest organizations had the resources to benefit from it.

Employing analytics technology is absolutely essential, but organizations now understand that data is not just about analytics, and creates value in its own right. This realization began with digital-first organizations such as Google, Amazon and Facebook, who have based their business model on data and use it to offer unparalleled levels of tailored services and customer experience.

Data is now an essential lever for creating new revenues, especially thanks to AI, and is central to many more organizations. However, its full potential has yet to be exploited. The companies I work with are often (pleasantly) surprised by the results they gain from implementing data projects. This is simply because they were not previously aware of the true potential of their data as they'd not found real uses for it.
Copy to clipboard

Which industries have adapted the fastest? Which have struggled?

When it comes to adopting data-first strategies, the key factor is the availability of data across the business. This means that players in banking, insurance, energy, and retail, who already have a lot of data and an internal data culture, have a considerable advantage. Additionally, the level of competition in these industries puts pressure on all companies to move into the Big Data era.

On the other hand, companies in manufacturing, construction or agriculture first had to find ways to collect data and then learn how to manipulate it. This shift has accelerated with growing deployments of sensors and the Internet of Things (IoT). These organizations know they need to catch up, as the European Commissioner for the Internal Market, Thierry Breton, put it: "The battle for industrial data starts now, and the main battlefield will be Europe."

Today, all sectors understand the benefits they gain through harnessing their data. Organizations must now build data-driven models to meet the needs of their markets.
Copy to clipboard

What are the main obstacles to the democratization of data?

The lack of an internal data culture is the main difficulty for players who want to put data at the center of their organization. At the start of projects, there's often a reluctance to share data, which can even cause a certain mistrust in different departments. This is either because they are not used to handling data, or because the organization's culture does not support internal data sharing.

To change this situation, senior management must understand that data is a company asset in its own right and must be central to their overall strategy. This means putting resources and new technologies in place to enable everyone to create value from data on a daily basis. Company-wide training programs are also essential to help people understand how data transforms the organization and to enable everyone to easily access and use data in their jobs.

In addition, the data team must have representatives in each department to support employees in implementing new data projects. This balance between technical and business skills is essential to creating practical uses and value from data.
Copy to clipboard

What is the role of governance in the success of an organization's data projects?

Once organizations understand that they are dealing with a powerful asset, they need to define the rules and processes that will allow them to take advantage of their data. Governance is key, providing a single definition of data for the organization, as well as access and rules for reusing data. Good governance thus makes it possible to have balanced and controlled management of the organization's data capital (through data mapping, and security policies, for example) while guaranteeing its usability (such as around data quality, repositories, etc.).

Implementing a governance strategy is a long and complex project and requires the appointment of a data governance officer.

However, it is important to take a pragmatic approach and start with simple to solve and easily identifiable problems, such as improving data quality, as this has a direct impact on the customer experience.
Copy to clipboard

What methodology do you use to support organizations as they deploy data projects?

At Business & Decision, we have created tools to support organizations to define their data strategy. They revolve around six fundamental pillars:

1. Use cases: Identify and develop use cases that create value for the organization.

2. Culture: Spread a data culture internally (via training and workshops, for example) and transform the organization so that it is able to responsibly and effectively use data and AI.

3. Governance: Deploy a governance strategy to control assets and maximize data usability .

4. Responsibility: Define and apply specific policies for data protection and security, AI ethics and ESG.

5. Technology: Choose and integrate the appropriate infrastructure and technology stack.

6. Strategy Execution: Define the means and resources required, and create a roadmap, with a plan, goals, organizational structure, etc.

To turn these six pillars into reality, we always recommend that organizations find a simple use case involving motivated, engaged employees. It is then possible to replicate this on a larger scale and to then spread the initial knowledge internally.
Copy to clipboard

What is the ideal technology stack for making data accessible and to create new uses for it?

There are multiple technology approaches… meaning there is no single answer to this question! However, there are several key points to bear in mind as these guide technology choices for organizations.

First, organizations must equip themselves with tools that allow them to exploit data as an asset and break down silos at both organizational and IT levels.
The data platform that organizations choose must therefore make it possible to distribute data internally throughout the organization, and externally to stakeholders, via an open access portal that does not require advanced technical expertise to manage.

Secondly, it is essential to take into account the issue of interoperability and to offer fluid and rapid data access to all stakeholders. Organizations need to be able to share via APIs with strong access management to guarantee that data can be reused in complete security.

Once the governance strategy and uses have been identified, you can then define the technology stack which is most appropriate for the organization. Above all, you need to choose technologies which will enable the use cases defined by the organization to be carried out, and which are adapted to the implemented governance strategy.
Copy to clipboard

Do you have any examples of customers who have made radical changes in the way they manage data? What benefits have they seen?

We support many customers that are changing the way they work and organizing themselves around data. Some have already identified over a hundred use cases after a few months of work on their data project.

Companies that see quick benefits share certain characteristics:
A Chief Data Officer who drives the strategy and coordinates all the projects. The organizations who are the most ambitious about data enhancement give the Chief Data Officer a senior, board-level role.
They make significant investments in data technology, training, and resources.
They involve all the organization's divisions, departments and offices.
Copy to clipboard

What upcoming trends will impact the world of data?

As far as technology is concerned, there's growing interest in the cloud. This technology is simple to implement and incremental investments allow organizations to embrace it very quickly.

However, the most important trend for me is definitely data mesh! This term refers not just to a technology or an architecture, but to a comprehensive framework for enhancing data and analytics across the enterprise. This model has a promising future since it puts the power of data back into the hands of the business. The goal is to adopt a distributed organization by data domain while having a unified level of governance and technology platforms.

We have found it of great interest to our customers, so to help we have launched the "Data Mesh Boot Camp:" a one-day workshop where organizations can better understand the subject and create a specific three-month, one-year and three-year action plan.

Finally, controlling the flow of data throughout the organization is also a trend that creates value. Data marketplaces, supported by Opendatasoft's platform, are essential for opening up data, facilitating access and creating value through greater collaboration between all stakeholders. This unified and controlled approach to sharing is also one of the fundamentals of data mesh.

Articles on the same topic :
---