Mobility
Interview with Stéphane Avronsart from SNCF Réseau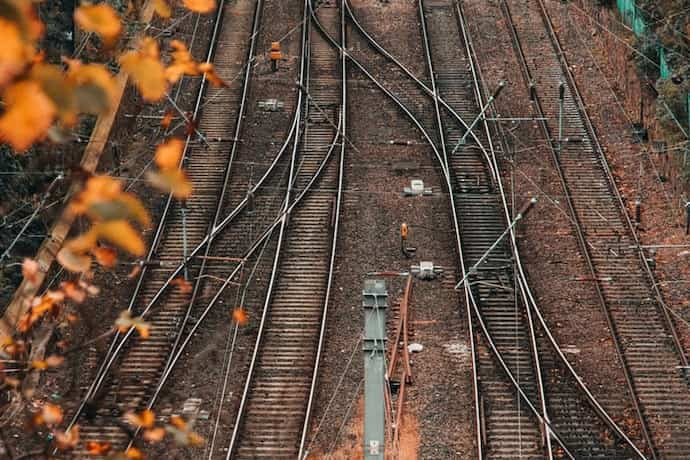 We sat down for a chat with Stéphane Avronsart, Head of Quality & Methods for the Project and Engineering Division at SNCF Réseau, to find out more about why the company decided to pursue a private data sharing initiative.
We sat down for a chat with Stéphane Avronsart, Head of Quality & Methods for the Project and Engineering Division at SNCF Réseau, to find out more about why the company decided to pursue a private data sharing initiative. SNCF Réseau is one of the three companies that make up the SNCF group and is responsible for the management and maintenance of the French railway network. It has an annual turnover of over €6 bn.
Copy to clipboard

In a couple of sentences, could you remind our readers of the context in which your data sharing initiative was born?

Of course! Our technical division has over 4,500 employees across the country, working on an average of 1,000 to 1,500 railway projects every year. We were having some difficulty obtaining primary data to carry out these projects. By primary data, I mean the elements that are essential for carrying out a project or conducting a study. Here is an example. Let us imagine that you want to renovate one of the rooms at your house.

Your primary data would be, at a minimum, the dimensions of the room and the constitution of the walls. You would need this information to know what kind of renovation work you would have to undertake. It would be the same for a railway study except that there is more data to collect and the data is more complex. But the idea is the same – we need information from the field to be able to proceed with a project. This could involve anything from topographic data to core samples of the infrastructure.

Ultimately, we realized that there could be several projects going on at the same place (the same train station, for example) with similar data needs. As these different projects would often involve different types of jobs within our company, the teams would acquire the data separately, without necessarily being aware that their colleagues were working on the same subject.

Additionally, these teams could be based in different offices across the country. There was not much of an ability to capitalize on our data or to share it within the company. Our main goal was to make our data more visible and to offer employees the option to get in touch with each other and exchange primary data. Moreover, we knew that this would allow us to reduce internal costs and improve our ability to meet deadlines.
Copy to clipboard

The implementation of this project must have required a lot of prior reflection.

Indeed. My role as head of quality is to make various tools and methods available to our teams. To do so, I created a working group to help me better understand the end users' needs. When putting this group together, I tried to take into account our organization's professional and geographic diversity.

I brought together specialists in charge of different types of projects, such as maintenance, IT, and operations. At the same time, I was cautious to choose representatives from the different offices we have around the country. Together, we managed to determine the exact needs within our organization and answer complicated questions around issues such as access to data, confidentiality, how to update data and how to make sure that our data is reliable.
Copy to clipboard

Was there a lot of work to be done in terms of promoting a data-driven culture among your teams?

There was quite a lot of work to do and, three years onwards, we still invest energy in encouraging teams to upload their data on the platform. In my opinion, what really made the difference was our ability to demonstrate that there is a real return on investment for each one of the platform's users.

We do not ask our employees to share data purely out of a sense of duty or to meet the needs of the company. We are rather offering them an opportunity to exchange data with their colleagues so that each and everyone of them can benefit from this huge database. Explaining this return on investment at an individual level has been a powerful incentive for our employees to embrace this private data sharing project.
Copy to clipboard

Speaking of return on investment, do you have any specific figures that you could share with us?

From the onset, I knew that assessing this project would be challenging. By granting open access to the platform within the organization, I could not track the number of accounts created for example. We do however have visibility on the number of times people connect to the platform, and I can tell you that this number has been on the rise!

In more specific terms, we have collected 280,000 sets of metadata on the platform over the last three years – a lot of information has been put online! I am also starting to get some user feedback. One of our business units deals with railway lines. Railway lines are the foundation of the work we do at SNCF Réseau. For example, if you want to build a signpost along a track, you will need to know where this track is and you will have to call the business unit that deals with the railway lines.

The group is therefore often called upon to supply maps. When they discovered "VIP data", they provided us with, and in a format that was compatible with the platform, all of the maps they had in their possession. We then made them available on the platform. As a result, the group no longer needs to respond to these types of queries as users can get the information directly from our data sharing portal. The unit has estimated that the visualization platform saves them four hours per request, which amounts to approximately 400 hours per year!

Finally, when implementing the data sharing project, we tried to figure out what was at stake in financial terms. We looked at the estimated budget for the collection of primary data by examining projects such as the Charles-De-Gaulle (CDG) Express or the Rapid East-West Link (EOLE).

The CDG Express project plans a rail link between CDG airport and the Gare de l'Est station. It should be in place by 2024. On the basis of these rough numbers, and by making a reasonable hypothesis concerning what percentage of this primary data could be reused, we arrived at an estimation of around ten million euros in annual savings. That is a really good financial return. Not to mention the benefits derived from our increased ability to meet deadlines!
Copy to clipboard

How many employees make use of the data sharing platform every day?

The platform is open to all SNCF Réseau employees and there are around 57,000 of us. Obviously not everyone uses the platform to the same extent as it is not equally relevant to every business unit. It's mostly used by the Project and Engineering division which counts 4,500 employees. If we were to limit this number to include only project and study teams, that would account for 3,500 to 4,000 regular users.How do you see the evolution of data sharing among your teams?

Great question! I led this project as head of quality and methods. Once we put a tool in place, it is no longer our job to sustain it. Our role is to identify needs and to work with users to find a suitable solution. 2019 will be a year of "migration" for this internal data sharing project. It will be transferred to another division of the company, which specializes in keeping such products operational.

The IT department would like to take up this project and spread its use. There is some interest to develop the product further and include rights management and data governance. That would be a great way to keep this initiative relevant for our engineers and project managers!
Copy to clipboard

What would you say to a large company in your industry that might be tempted to get involved in a data sharing project but isn't entirely convinced of its benefits?

I would mostly talk about user feedback. A project like this can provide real added value if it meets the specific needs of your company. User feedback shows that your project is relevant because it enables your teams to do what they couldn't do by themselves. For our part, we came up with a solution for users who wanted to be able to visualize their data on a map.

To do so, they developed local applications or created visualizations of their projects in Google Maps. With our data sharing platform, we provided them with a customized and confidential version of Google Maps! If you listen to your teams and their needs, you'll probably find that a similar dynamic is at play and that data sharing could be a way of meeting these needs.
Copy to clipboard

Why did you choose Opendatasoft as a partner?

Our teams wanted to have a portal capable of visualizing geographical data. The IT department looked internally to try and find an adequate tool. Existing solutions tended to rely on GIS (geographic information system) technology and that didn't exactly meet our needs. So I started looking for a solution externally.

Opendatasoft was brought to my attention by the SNCF itself, who had chosen it for its own open data project. In fact, the communication department in charge of digital issues was required to publish data but they did not have access to the internal data they needed, so they came to me. And, finally, Opendatasoft was a perfect fit for the needs of our project with its data visualization tools and the platform's user-friendly features.
Copy to clipboard

Is there anything else you'd like to add with respect to your collaboration with Opendatasoft?

The strength of Opendatasoft relies on your teams' responsiveness. Most companies offered us support in terms of project management but not an off-the-shelf solution. You not only had an existing solution but, what's more, your teams are really dynamic and responsive. For instance, we asked you for a processing tool to track our mileage points and in a matter of days you came back to us with a relevant solution. In addition to that, you have always been there for us, whenever we've needed a presentation, demonstration or technical support to better understand and make use of your product.
---
How data sharing is shaping the future of mobility
In the relaxing seaside town of Pesaro, central Italy, moving around has never been more convenient – nor more sustainable. Imagine looking for a parking spot, paying for the actual time you occupie...
How data sharing is shaping the future of mobility
In the relaxing seaside town of Pesaro, central Italy, moving around has never been more convenient – nor more sustainable. Imagine looking for a parking spot, paying for the actual time you occupie...