Data intelligence & reporting
How to create new sources of data-driven income by offering Dashboards as a Service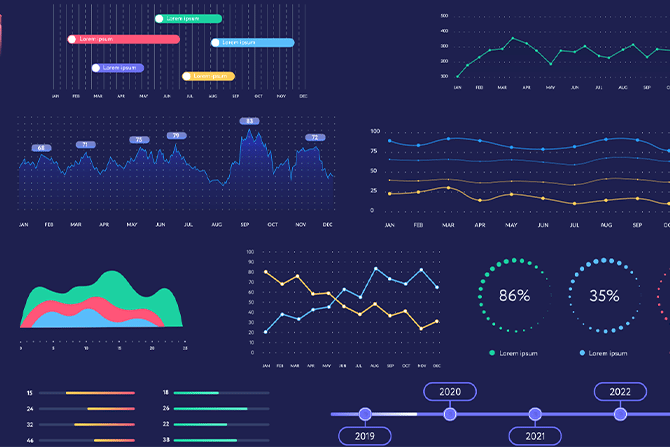 In this article, we take a closer look at Dashboard as a Service (DaaS) solutions. These fast-growing data services are now generating numerous benefits for both the organizations that implement them and their wider ecosystems and customers.
Organizations produce and collect large amounts of data from a wide variety of sources. While this data is essential for improving efficiency and making better decisions, it also offers the chance to generate new revenue opportunities.
Creating new products based on data allows organizations to supplement or enhance their existing offerings and to establish themselves as innovators within their sector. Reusing this data unlocks its true potential, enabling the insights and knowledge it contains to benefit a wide variety of organizations, often in different industries.
In this article, we take a closer look at Dashboard as a Service (DaaS) solutions. These fast-growing data services are now generating numerous benefits for both the organizations that implement them and their wider ecosystems and customers.
Copy to clipboard

Why provide your data via Dashboards as a Service?

The growing use of big data is dramatically changing how organizations operate, particularly when it comes to large enterprises who were early adopters of data analysis tools. Thanks to this increased focus on data, many companies are now selling their raw data.

However, it is possible to go further, marketing the insights gained from shaping, enriching and visualizing data and selling it via data services. This delivers real revenue benefits – a study by Forrester shows that organizations who sell their data are 8.5 times more likely to experience annual revenue growth of at least 20%.

The most common data service that companies provide is around Dashboard as a Service (DaaS) solutions that deliver insights through online, cloud-based dashboards. These use an organization's expertise to produce information with a high value-add for their customers.

To successfully launch this type of product and unlock new revenue sources organizations need the right technology foundation in place to enable them to shape, visualize and share data with their customers.
Copy to clipboard

How to set up a Dashboard as a Service solution

Any organization that has data which is valuable to its stakeholders can benefit by offering Dashboards as a Service. Follow these steps to create your data product:
1. Identify your data sources
First, identify which of your data may interest your stakeholders. This could be production data, data from Internet of Things (IoT) devices, or information about your customers. However, ensure that you don't share any information that could undermine your own competitive advantage..
The data you share must be:
High-quality: this is essential, especially if you want to sell it to third parties. Ensuring data quality starts by implementing an internal governance strategy.
Updated in real-time to ensure that your dashboards reflect the latest information. Use APIs to ensure your data is always available and up-to-date..
Secure and anonymized, if it is sensitive or personally identifiable information (PII). The goal is not to provide raw data, but insights, so anonymizing data doesn't alter the value of the information shared.
2. Create effective dashboards
The dashboards you provide are the visible part of your data product, making them vital to its success. Dashboards should be:
Easy to use and intuitive: users shouldn't need technical skills to access and benefit from the data dashboards you provide.
Interactive: the added value of a Dashboard as a Service offer is the ability to draw insights from the data. They therefore need to be interactive, not static, offering the ability for users to drill down through the dashboard and manipulate data to find out answers to their queries.
Scalable: the dashboards provided to customers must be easy to update and capable of evolving based on the insights that the data brings to light. This will ensure they are actionable over the long term.
3. Define a marketing model
Finally, you need to define how you market and sell your dashboards. For example, the model could be:
A fully-fledged data service offered by the organization as a data service, also known as a data (or digital) product.
A self-service offering where customers can buy data products independently (especially via a marketplace)
A data product that is included as part of a more comprehensive service, enabling you to add value and differentiate against competitors.
To identify the sales model for your data services, start by understanding the possible use cases and benefits that your customers can receive by using them. Then you can price them competitively to ensure user take-up.
Copy to clipboard

Marketing data services: use cases for Dashboards as a Service

We have completed over 2,000 data projects together with our customers, many of which involved creating data products for external consumption. Our platform reduces the time needed to create these data products, such as Dashboard as a Service solutions, thanks to several key features:
The ability to connect to all your data sources and update them in real-time to meet transparency and quality requirements.
Data enrichment through Opendatasoft's open data hub, which contains 27,000 public data sets that you can combine with your own sources.
Simple, fast creation of data visualizations and interactive dashboards in just a few clicks with our no-code studio or via our advanced mode for more sophisticated developments.
Secure sharing of your dashboards through permissions management and easy login for all your stakeholders and customers.
And, because you don't need specific technical skills to access and use our platform, organizations can directly involve the departments that produce the data in creating new services, enabling you to make the most of their expertise.
Learn more about the benefits of Dashboard as a Service solutions through these customer use cases from Birdz by Veolia, SFR and Akajoule.
Birdz Veolia enhances its IoT sensor offer with dashboards for decision-making.
Birdz designs and provides innovative IoT products to support the sensing and monitoring needs of cities, regions and industries in areas as diverse as analyzing the quality of drinking and river water, and monitoring fire hydrant system performance and biodiversity.
It wanted to create interactive dashboards and data visualizations to transform the data produced by its IoT sensors into actionable insights and information that customers could use for decision-making.
When customers subscribe to one of its dashboard-based services, they now have access to a complete management tool that allows them to increase their operational efficiency by monitoring usage data and instantly detecting points of failure and leaks in their pipeline networks. The data products are also opening up new revenue opportunities for Birdz itself, differentiating the company in the market.
SFR uses the SFR Geostatistics platform to provide data to tourism, retail and other sectors
As the second-largest French telecommunications operator, SFR has more than
21 million mobile users. A total of 4 billion mobile events are recorded every day. The SFR Analytics team anonymizes and transforms this mobile network data into useful indicators which it sells to organizations in the retail, event, tourism and mobility industries.
For example, by tracking foreign SIM cards passing through its network, the operator can aggregate data about tourists and identify the places they visit, as well as the routes they take. SFR can therefore provide information dynamically or as reports on population movements or flows in a particular region. This is a very valuable resource for organizations who want to adapt their operations to the changing needs and behavior of tourists.
To learn more about SFR's data products, download our ebook!
Akajoule digitizes its services through energy data dashboards
Akajoule is a consulting and engineering company that has been working with local authorities and industries in the fields of energy efficiency, renewable energy, and energy planning since 2010.
Akajoule differentiates itself through its focus on innovation, such as the creation of the online Datajoule portal. This was launched in 2017 to dematerialize and enhance energy and environmental data. The platform allows Akajoule to promote its Dashboard as a Service solutions, and is aimed at multiple sectors:
Regions wishing to showcase their region's energy data and to make it easier to share and update, particularly in the context of climate planning.
Industrial organizations that want to directly manage the energy performance of their entire site through precise, relevant performance indicators.
Companies that wish to manage all of their energy consumption digitally and automatically with an optimized and customized tool.
Articles on the same topic :
---