Digital transformation
What should you look for in your data democratization platform?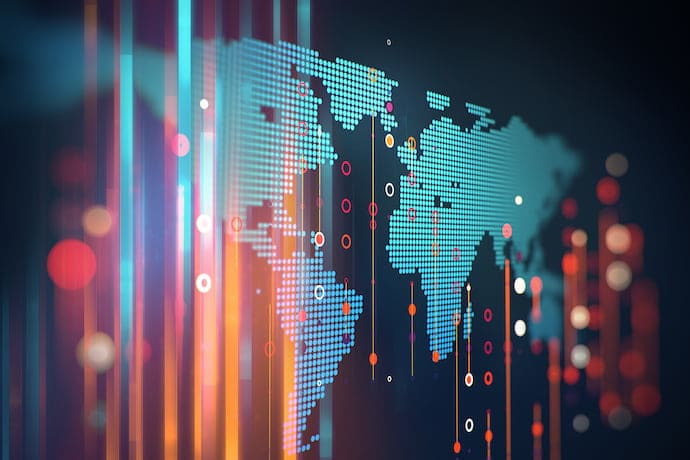 Once you've chosen to embrace data democratization to serve your ecosystems with compelling data experiences your project needs the right technology and vendor partner to enable success. We explain what to look for when picking a technology platform in terms of features, support and relevant experience.
Once you've chosen to embrace data democratization to serve your ecosystems with compelling data experiences your project needs the right technology and vendor partner to enable success. We explain what to look for when picking a technology platform in terms of features, support and relevant experience.
Organizations today understand the positive impact data democratization will have on their business. Sharing data internally and/or externally so that it can be easily found and used by all employees and/or external stakeholders increases value, leads to better decision making, and enables innovation and greater engagement.
As explained in our previous blog, data democratization opens up information so that it can be used by all, through whichever device they choose and without requiring special skills or tools. It unlocks access to the data that you have collected across your business, breaking down silos and enabling seamless sharing.
Achieving this requires the right technology stack, with a data democratization solution sitting on top of your existing infrastructure to deliver value. We explain more about how to build the best tech stack to share your data widely in this article.
There are a range of solutions available to enable data management. To help choose the right one for your data democratization needs, this blog highlights what features, support and knowledge you should look for when picking a solution and partner for your data experience needs.
Copy to clipboard

The technology features for data democratization

Your technology has to ensure that data is available, usable, and shareable by everyone, whatever their technical skills. Looking across the data lifecycle, here is what to focus on when choosing your data democratization solution.
Integrate with a wide range of data sources
Be able to enrich and contextualize data
Data on its own only delivers a certain level of value. You need to be able to enrich it, by adding other internal or external datasets (for example, weather or geographic information). It is also important to be able to contextualize data, such as by understanding which business unit it has come from in order to make it meaningful when it is shared. In many platforms, enriching data or joining datasets is a technical process that requires coding and knowledge of database languages like SQL or programming languages like Python. This adds overhead, time and cost to the sharing process. Instead, look for platforms that allow you to bring datasets together, add additional columns and enrich them without needing to code.
Make it easy for your audiences to find the right data
Provide a variety of tools to visualize your data
Most non-experts struggle to make sense of a set of data points, meaning your platform has to make it easy for them to create compelling visualizations themselves without any training. While there are powerful business intelligence tools on the market, they can be complex to use, overwhelming users who don't need such deep functionality. Your data democratization platform should therefore have a simple user interface that enables people to create relevant data experiences : build visualizations, maps, and tables with the same tool. This brings your data to life in an easily understandable manner, allowing sharing in as many ways as possible, such as by creating and publishing web pages, embedded data stories and even apps.
However, a focus on simplicity shouldn't neglect more expert users. The platform you choose should also enable data sharing through APIs that allow the downloading and integration of bulk information and multiple datasets.
Support good governance when sharing internally
Organizations rightly have to comply with tight regulations when it comes to protecting data, particularly customer records. That means you cannot just share all data with all internal users without putting the right governance and security processes in place. The data democratization platform you choose must support this, allowing you to set and administer access rights for specific groups and individuals. These need to be granular – for example, going down to a row or column level in datasets, with certain data masked or unavailable. Governance shouldn't impact usability – your platform must be able to create and share visualizations of filtered data in exactly the same way as for every other dataset. This combination of openness and security means that you can ensure you get the benefits of data sharing while enforcing strict compliance with policies and regulations.
Deliver transparency and drive data services by sharing externally
Data democratization means being able to share data experiences internally and/or externally depending on your needs, whether data self-service, data services, or open data & transparency, providing it to partners, citizens and your wider community. This could be to increase transparency (such as around CSR or for the public sector) or to enable closer collaboration with your ecosystem, including creating new data services.
Firstly, your platform needs to deliver the right experience to your external users. It has to match your branding, be easy to access and navigate and responsive/quick to load. And it has to be able to cater to users at all levels. This means that people can view datasets at a high level (such as through visualizations), as well as being able to access raw data either directly or through APIs. This delivers transparency as users can see exact information to reassure them of its accuracy and your openness.
Often companies want to share specific data with particular organizations, whether partners or regulators. Your platform has to be able to cope with the complexity of delivering this through different levels of user authentication to access specific data, without adding to your IT overheads. You need to be able to set limits on what data can be accessed, as well as creating quotas if services are being paid for.
To make sharing easier, especially when multiple organizations are involved, look for a platform that offers subdomains/workspaces. These share data seamlessly across different portals, avoiding the need to constantly update it, saving time and boosting efficiency.
Provide full multi-lingual support
International businesses and government agencies alike often need to publish and share information in multiple languages. Here it is important that your platform is able to translate the metadata that describes each dataset. For example, you want the "Name" field to be translated into "Nombre" for Spanish-speaking users.
Copy to clipboard

The right partner for data democratization
Agile and easy to deploy
It is important that your data democratization project is quick to deliver benefits. At the same time the potential volumes of data to be shared are enormous. Therefore work with a partner that can help you select the most useful data to begin sharing, then co-create and validate your implementation to give fast results. This will gain buy-in from stakeholders and users and allow you to extend the project moving forward.
An all-in-one platform
There are two approaches to data democratization – either using an all-in-one platform that delivers everything you need in a single solution, or a piecemeal approach that stitches together different vendors and technologies. Working with a company that provides an easy, all-in-one platform saves time and resources as you need to learn fewer new skills to deliver results. This adds up to faster ROI and shorter time to market. Look for a company that has pricing that scales to meet your needs. You don't want to be limited by per-user pricing models that make it uneconomic to share data as widely as you want.
Work with data experts
Data democratization and data sharing can appear daunting. Therefore work with an experienced partner that has expertise in handling and opening data for large organizations from the private and public sectors. They also need to understand the 'softer' side of data democratization, and be able to help with developing a data culture in your business.
Look for a partner that is open and happy to share ideas for what you can do with your data, and helps you become autonomous in how you reuse data. As well as providing support and knowledge transfer, they should help spark innovation in your team, for example by providing access to a library of ideas and best practice. This enables you to come up with more engaging data use cases inside and outside your organization.
Data democratization has the power to transform your business and how you and your community benefit from data. Getting the full benefits starts with picking the right platform and partner for your needs.
Articles on the same topic :
---